Update (again)
Things got really slowed down on our project when our last contractor abandoned us (I have terrible contractor karma or something!) but at least this time we were just a few projects short of punch list. Sadly, most of the glaring errors are in the kitchen, but I've tried to make the best of it. As you'll note, you're not seeing the sink wall of our 9x7 L shaped kitchen because the contractors installer butchered my sink cab, and while I bought a replacement cabinet face, he walked off the job before it could be repaired and my cabinet company, because they did not do the install won't touch this hot mess with a 10 foot pole. I don't blame them. Other than installer defects, I am very happy with my Shiloh cabinets. My hardware is: RH Gilmore bin pulls and cabinet latches; the knobs are porcelain from Emtek, Madison Ivory, I think.
So, despite spending major money on this project, I can only really feel good revealing my range wall right now.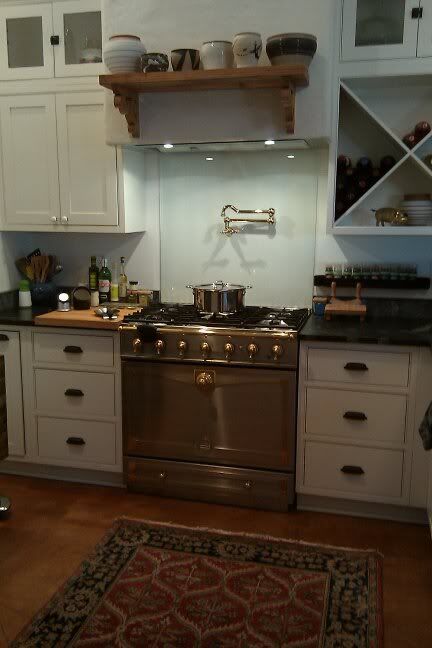 The cabinets are Shiloh soft white, the countertops are piracema soapstone. The range is La Cornue Albertine (brushed stainless with brass accents). The backsplash is simple piece of glass. The potfiller is brass and I bought it from Overstock. The shelf on the mantle was made from our old rotted floor joists and the collection of pottery was made by my cousin. I do have a lot of countertop clutter because I cook every day and I make no effort to hide stuff. The rug is a relatively inexpensive hand knotted Savafieh from Overstock. Necessary because the concrete is tough on the feet. I love my Thermador range hood. It's not the quietest thing, but it sucks the HOGS up and out even at low speed. And when you're cooking a roux, you want those smells going *out* as efficiently as possible.
We also have a reclaimed wood work table that lives to the left of the stove - tighter than would be advisable under most circumstances, but it works for me.