Thrilled with new chandelier & kitchen lights
violetwest
January 19, 2014
In honor of my one-year homeowner anniversary, I had my standard builder dining room chandelier, which was too high, too bright and rarely used, switched out for something a little more stylish. Especially since my living area is so open -- that chandelier is in the center of it all. And on a dimmer! So now I can actually use it without being blinded by glare from my food, lol!
This is the Audrina chandelier from Pottery Barn (was on sale, too!0. The finish is a rusty bronze, and it has clear, unfaceted drops. Just enough sparkle, imo.
While I was at it, I had the electrician hardwire 3 LED light strips under my kitchen cabinets. Totally blew that dark corner away, but probably more light than I need -- could have gotten away with two strips. Ah, well.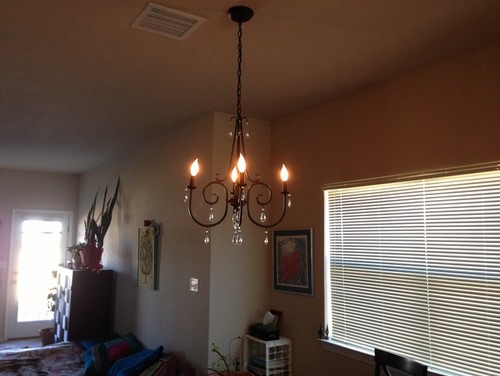 This post was edited by Violet.West on Sun, Jan 19, 14 at 0:42