Granite with oak -- what color? Light or dark?
harriethomeowner
January 17, 2009
We have started looking at granite to replace our badly made laminate counters.
In the first place, I am not sure about using granite with oak at all, except our natural oak cabinets are nice ones, and only 9 years old.
But we went to look anyway, and these are the colors both DH and I liked:
Kashmir White (white with gray and purple speckles, bits of silver)
Giallo Ornamental (white, yellow, flecks and swirls of black)
Impala Black (black and gray, specks of blue sparkle)
New Venetian Gold (similar to Giallo Ornamental)
Blue Pearl (black, gray, silver, and blue, lots of sparkle)
As you can see, this is a wide range.
I really liked the Blue Pearl because of the contrast with the oak and the sparkle, but worry that it's a bit much, and also that it will be too dark. Same with Impala Black.
Kashmir White is very nice but seems to fight a bit with the oak.
The others blend well with the oak.
I tried to take pictures of the samples we brought home against the cabinets -- hard to do!
Here's the kitchen now:
Here's the three samples we brought home (Kashmir White, Giallo Ornamental, and Black Pearl):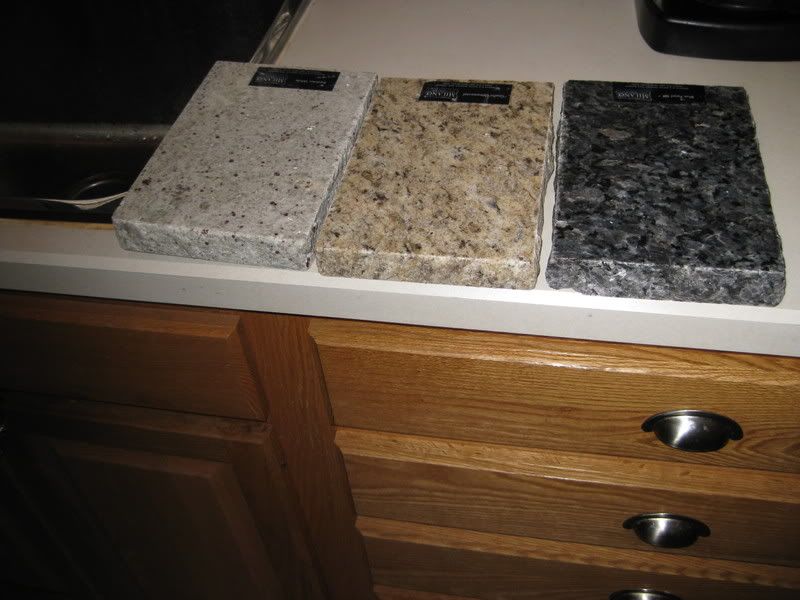 (The Black Pearl slabs we looked at had more light colors in them than the sample here.)
Any opinions, suggestions? Thanks.
P.S. Cost would be about $45 or $57 psf installed (depending on the granite). The granite is sealed, and there is a warranty against stains.