Front Door Pics. Color suggestions welcome.
bonnie_ann
August 10, 2010
I'm looking for paint color suggestions.
Front door: Bright, cheerful RED.
Foyer: Orange / Terracotta.
Master Bedroom: A soothing, calm, blue, and a deep purple.
I'll try to post inspiration photos here (2), and 2 pics of my door. One when it was painted SW Rookwood Red (too dark I think), and one as it looks today, stripped, ready for sanding and painting.
ETA: It looks like I can only post one pic. I (think) I am able to post the one that is my door when painted SW Rookwood Red. The brick, trim, etc. are all the same but now the door is stripped. I found the Rookwood Red to be too dark, not cheerful and bright enough. I'd like more pop. I posted two inspiration photos on my blog. Linked below. I think.
This is my last try to post pics. You're welcome.
Image link: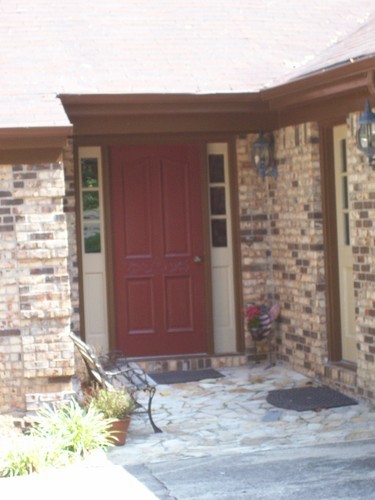 Here is a link that might be useful: My blog entry about my paint decisions.