And the winner is . . . Kenmore 41172/91172 [built by LG]
For the last couple of weeks, I've been poring over hundreds of reviews, and dozens of threads here, attempting to decide among the following washer/driers for our new laundry area make-over:
1. LG 24" combo washer/dryer--120V/un-vented
2. Bosch 24" washer/dryer--240V/vented
3. GE 24" washer/dryer--240V/vented
4. Frigidaire Affinity--gas (only 36" tall)
5. Kenmore 41172/91172--gas (standard-size)
The LG combo washer/dryer simply didn't work out due to its extremely long drying times. The Bosch units are very pretty but tend to have very spotty user reviews. And, though the similarly compact GE units will also facilitate an under-counter installation, the 240V condenser driers of both brands will simply murder us in energy costs at our local rate of $0.31/kWh.
So, I pared my options down to between the Frigidaire and Kenmore models, only because they were the only washer/driers I found in white which also had all-white door trim (instead of chrome). The white-on-white lends a more Bosch-ey/Miele-ish look to the products, and really ups its cosmetic appeal in my opinion. But the Frigidaire units are nearly universally poorly reviewed. Even the Lowes' salesperson advised us not to buy them. So . . . Kenmore it is!
The Kenmores (shown below) just went on sale for only $1,298 for the pair.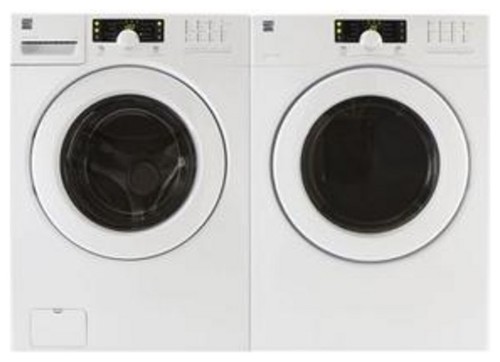 This post was edited by studio460 on Tue, Jun 25, 13 at 2:40