Need to replace A/C But not sure about Furnace
cincinair
September 18, 2013
The A/C went out on 12 year old home that we built.
A little history
Service call to company found capacity blown and still was having issues getting compressor to run after replacing capacitor. The Compressor was also very LOUND the previous couple of weeks.(I could hear it in upstairs bedroom) A/C check in spring showed everything to be OK.
They somehow got it to start but it was still very noisy. They recommended to try A/C Renew and also 521 Hard start. They were not sure that this would work and keep running but might get us through September so we could wait to spring to fix replace A/C. Said we would get credit toward new A/C for repairs. Total bill for this was $590 which we paid.
The compressor did get a little softer and ran for 4 Days and then quit again.
So now it time to look at New AC and I also wanted to see about furnace. Although it is a 90% furnace I know newer variable speed motor on furnace will help with energy cost.
I have used this company to use the aeroduct sealing a year a ago and they seem to be decent folks in fact they are a Bryant medal of excellence winner
I have a 3000 square foot home not including half of the basement is finished. I also have a 20x10 two story family room that has a two story window wall. There is also a 5x5 two story foyer. with large window. and live in Cincinnati ohio
Current AC is Bryant 552ano48-E
Current Furnace is Bryant 350MAV060100
Owner comes out and looks at ductwork and makes some comment. That after looking and evaluating Says that the 100k Btu is okay but that I really could use a 5 Ton AC but the ductwork in the house was not run correctly and that it will not support CFM 5 ton A/C. He will as part of his price modify how the take off were made in the basement to try and help things. Also only have two return in house and second floor return is in hallway. All my doors slam shut when fan turns on. He was going to slightly increase the return upstairs.
So on to the pricing.
He quoted me one legacy, one preferred, two evolution a/c, and two evolution Heatpump.
I know I dont think I want the legacy or preferred so I will leave those out for now.
So he quoted the 986TA with the 186B and the 987MA with 187BN. Final numbers he gave me was
A/C 187BNA48
Furnace 987 MA661100v21
Evap CUPVU6124
Evolution control with WIFI
Bryant Humidifier 600
11,387.00
Minus 490 factory rebate
Minus 300 for previous service call
He says he talked to Bryant about using the 5 ton evap coil with 4 ton condenser to try and get as much out of 4 ton unit as possible.
Heat pump quote which I am not doing is
Furnace 987 MA661100v21
Heat pump 280ANV048
Evap CUPVU6124
Evolution control with WIFI( I asked for this)
Bryant Humidifier 600
14660.00
Minus 590 factory rebate
Minus 560 for previous service call
So do I just forget all this High efficiency stuff and just get new A/C I It just seems like to much money. I want to buy high efficiency A/C but you do not get efficiency without new furnace motor. Am I stupid for wanting to get a new furnace. I think he should give me repair bill no matter what furnace I buy.
I travel a lot for work and I have hard time getting a bunch of quotes.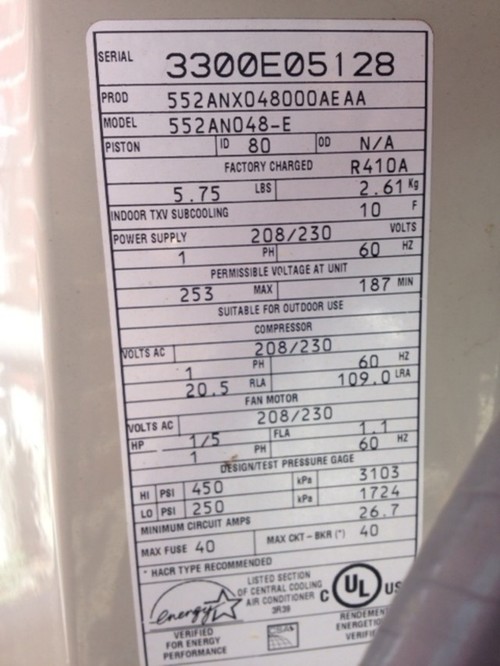 This post was edited by cincinair on Wed, Sep 18, 13 at 1:05