New here: want to knock down walls! Help with kitchen layout!
Photomom3
January 31, 2013
Hello! After finding the GW kitchen forum, I've spent several days looking back through the last few months of posts. I love your community for ideas, suggestions, reviews and general helpfulness to each other. I hope I have done my homework well, since I've been preparing this post for 2 days!
My husband and I agreed a few years ago that we need to do something to make our kitchen more user-friendly. The "how" has been the problem for us, mostly because the kitchen is narrow and sandwiched in the "inside" of the house: between the eating nook and dining room. Removing walls creates a looong (37ft) and narrow (12ft) space. I am open to any and all ideas and comments. I've put together the basics below:
FAMILY: We are a family of 5. Kids are 8-14 years old. We USE our kitchen-we rarely eat out. I cook meals daily, and I love to bake. During the week, it's mainly me in the kitchen, the kids hang out while I prep meals and do homework at the table or peninsula. On the weekends, my husband helps cook/clean up (kids too!) We are casual entertainers of friends, and larger family gatherings a few times a year. I shop frequently, a few times a week for fresh produce and dairy items.
TRAFFIC: Most of our traffic comes in from the garage to the mud room, then left into the kitchen. (this is also where groceries come in and trash goes out!) Between the kitchen and nook is the main 'road' through to the great room, basement, and upstairs. To the right of the mudroom is a walk in pantry and a laundry room. I am not lacking in storage space, as the pantry is large enough to hold our recycling bins, pantry items and small appliances. The pantry is a little out of the way, but I'm used to it.
PROBLEMS: Bottleneck where the current sink is in the peninsula, with the dishwasher and refrigerator. For one person, it's doable, but multiple people in the kitchen tend to get lost in the ''Bermuda Triangle'' where the sink and refrigerator are located, and bump into each other (or get in my way while I'm cooking!).
We have a dining room that is used once a year, and is taking up valuable real estate in our home. I would love to knock out some walls and open the current dining room to the kitchen and nook, and create one large space. There is one wall that is load bearing, and needs to have support where two ceiling beams come together. (Indicated on the plan: a column approximately 4'' x 16''). As much as I don't like it, this column is not optional: it must be there if we want to keep the second story of our home up where it belongs!
NEEDS: Better traffic flow, get refrigerator out of the main prep area of the kitchen. Would love an island with seating for 5.
WANTS: Want main sink on island, so I'm looking ''out'', would like a prep sink in addition, or just a really big sink! We have the unused dining room that we would love to put to work for our family. We have considered having only one eating area, or keeping two with a banquette around the window in the current dining room.
Appliances:
French door refrigerator--as big as I can get!, dishwasher,
trash compactor, stove/oven combo OR cooktop with one wall oven (whichever fits into space best), microwave.
OTHER: We have a plan we have been working on. It includes removing all dining room and hallway walls, (adding two columns) and having a one-wall kitchen with fridge, cooktop/range/oven/micro, and a large island (12' x 5' 6''). The dining room space is mostly open, we could have an eating area there, or built-in window seat and shelving for a sitting area. We like it, but are looking for some "outside the box" ideas, mostly because this is the best idea we can come up with after 2+ years of trying--we aren't getting anywhere! I will attach it, but from what I've read, I'm not supposed to repost after my first post so that I will stay on top and hopefully get lots of lookers and advice. So, I'll post it later!!
Thanks so much for reading my lengthy post and I hope to hear your brilliant ideas and suggestions so we can get this project movin'!!
don't know where the original layout went...trying again!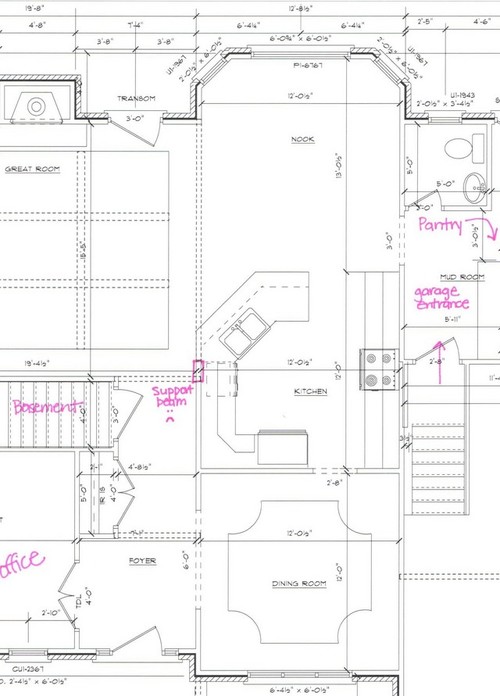 This post was edited by Photomom3 on Thu, Jan 31, 13 at 13:32