Slide in vs. Free Standing Double Oven Range
fivefootzero
January 14, 2011
Hi all:
I would cross-post in the Appliance forum, but it doesn't get as much traffic, and it's mostly repair issues over there vs. function.
My dilemma is this. I really like the look of a slide in gas range, as well as the extra space it affords in the back of the range. I generally use back-burners before front ones, as I have a family, and a very busy kitchen with 3 doorways (it's a pass-through to most rooms in the house). But I really like the functionality of a double oven range. I have 2 children, a child-like husband, and a chocolate lab. I can see myself using that top oven 90% of the time.
I haven't chosen which brands of appliances yet, so this is just asking for an opinion on configuration.
Thoughts?
Here's an example of a double-oven free-standing range: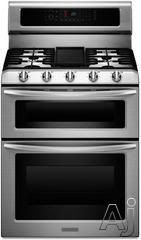 And here is my current layout (which is final). The view is looking in from the dining room (one entry point) and you can see 2 doorways at the back of the layout (so that makes 3):