Design laundry + more room
Hello! Thanks for looking.
I am working on the laundry (+more) room for a new build. We will break ground in April. We will be in this house "forever". Couple of kids in college and one starting high school, so we will be empty nesters in too few years. I want the "laundry" part of my room to be very functional. The "more" part of my laundry room is to do with as I wish. I wish to make this space call to me to come spend lots of hours producing something meaningful out of the 25 years worth of pictures that have piled up. I have about 40+ photo storage boxes packed (in no particular order now) with photos ranging from our childhoods through our children's childhoods. I have another few thousand photos on my computer from more recent years. I would like to set up my laundry room to efficiently handle all of the muddy Boy Scout stuff from camping weekends, routine laundry, etc., and at the same time be my "happy" room where I can paint the walls any funky color I want, hang my favorite old kid pics even if "outdated", and go to town tackling my chaos.
I want my computer/scanner/printer/etc work area to be part of the design.
Below are two clips from our house plans with alternative laundry room configurations. Right now, I can still change any of the configuration inside of the laundry room perimeter walls. Just outside of the laundry room, at the entrance from the garage, there is some mud room type hall open storage for coat hooks, back packs, keys, etc. I can possibly change this area a bit as well, although it's to my advantage to leave the hall space as functional as possible to keep incoming clutter from finding the kitchen. One of the plans below shortens the hall storage to make the laundry space more functional..., but I hate to lose the hall storage. There must be a better solution? Both plans below (from the architect) show a closet, but neither closet seems right.
Any ideas? I am idea'd out, and just see a big open space. I can add shelving, counters, cabinets (glass front or not?), some sort of an island, and/or a bigger/different/additional closet as needed.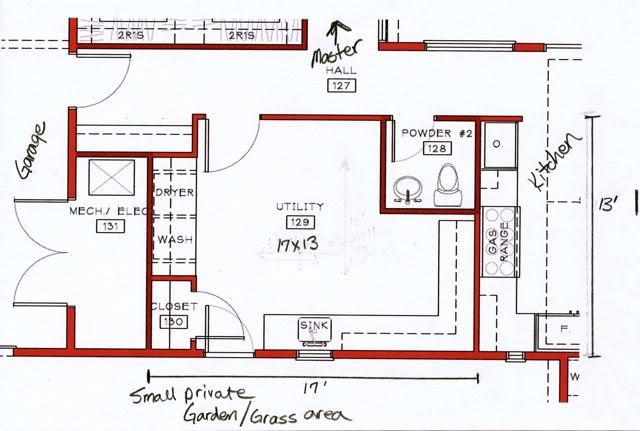 Thanks for considering my future play area!