Another forum meeting, just a small one...
Yes, we had another forum get together, just a small one. Robin (rob333) had to be in Chicago on business, so I hopped the Amtrak and met her there. Here she is, the 28th member of the forum I've met!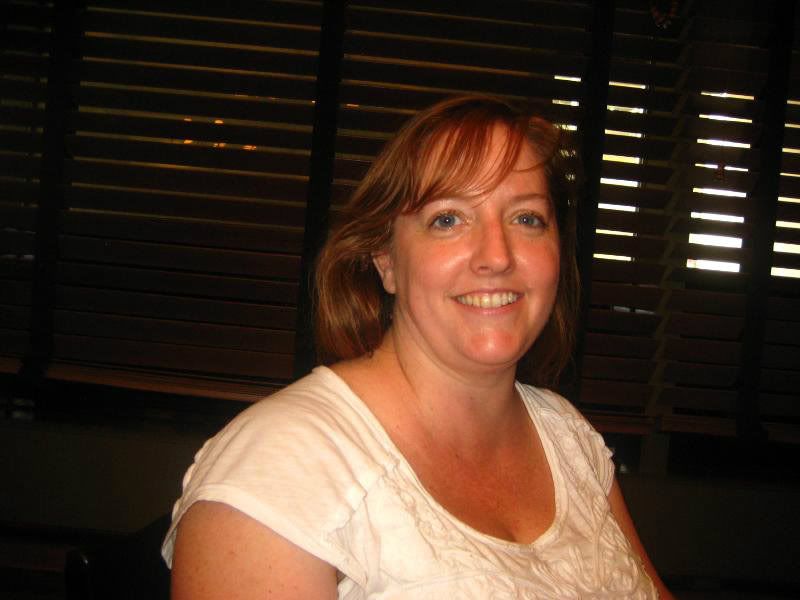 Neither of us brought gifts because I took the train and she flew into O'Hare. She was very brave and took the Blue Line train into Chicago, and met me at Union Station. We were both starving, so we walked several blocks to Weber's Grill, where they cook everything over charcoal and it smells wonderful.
I had the sampler, one BBQ'd rib, a beef kabob, a shrimp kabob and a chicken breast with honey mustard sauce, alongside a pile of crispy fried onions: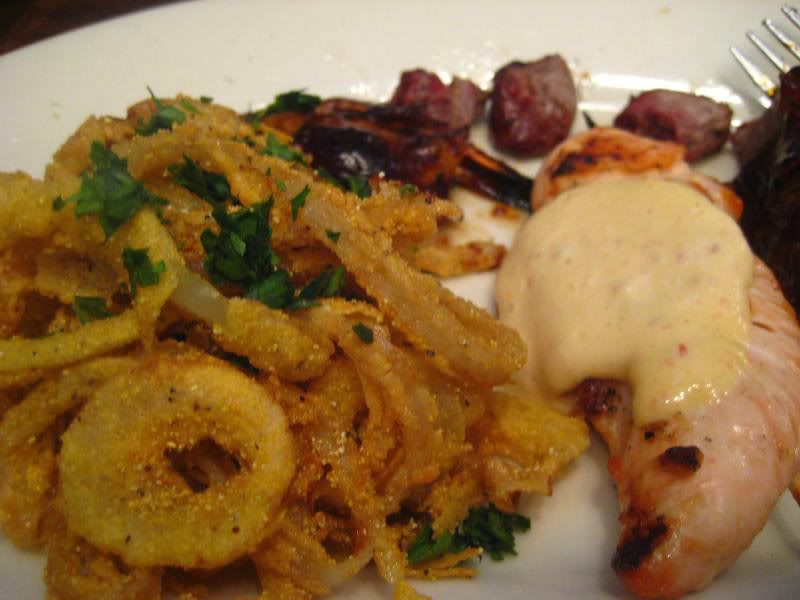 Robin had the flank steak with peppers and onions and a nice pile of garlic mashed potatoes. Her steak was rare too, just my kind of girl, and Ann T would have been proud.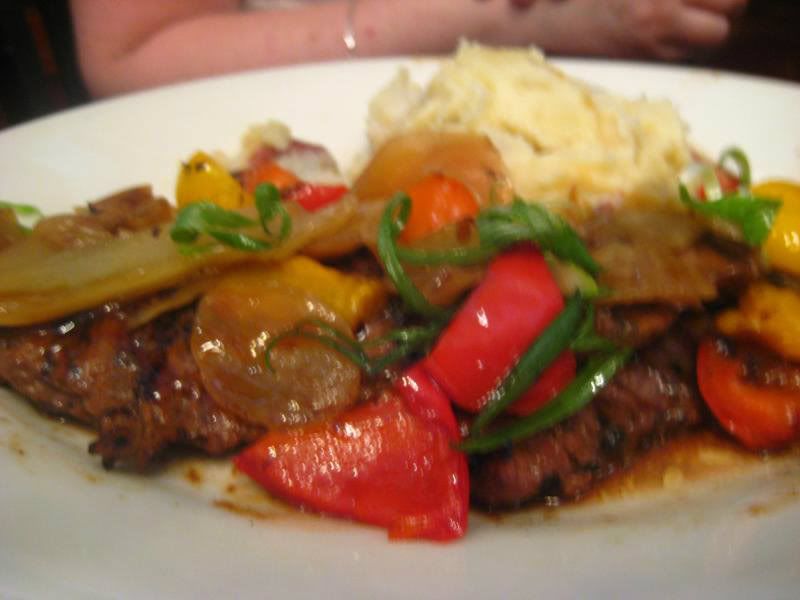 We both saved room for dessert, Meyer Lemon creme brulee topped with chopped fresh strawberries. It was good, but I like the usual vanilla stuff better, and Robin thought she would prefer coconut: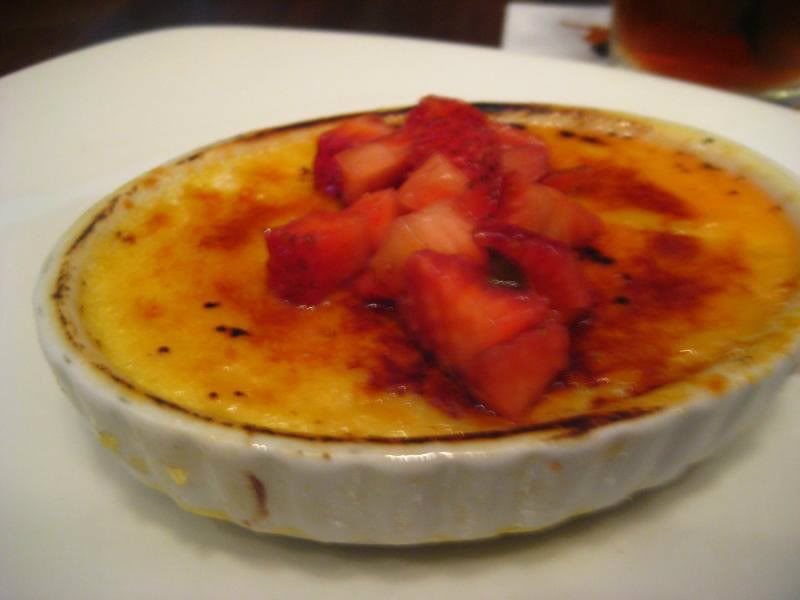 From there we took a cab up to Old Town and the Spice House. I bought Elery a box of hot spices, including the Vulcan Fire salt with habanero peppers, a hot chili sauce, something called Red and Black, ground black pepper with chilies and something else hot I don't remember because I know I won't be eating it, LOL. Robin got some crystallized ginger and we went next door to Old Town Oils. We tasted several things, including flavored balsamic vinegar, and bought a bottle of chocolate balsamic.
Another cab ride and we were at the Lego Store next to John Hancock, so I could get a small gift for Robin's little guy, who had to stay home. An elevator ride to the top of the John Hancock where Robin could see The Lake. She said she was amazed when she flew over Lake Michigan, she'd never seen a lake so big, so I thought she should get a good view.
Then we walked back to her CTA station for her ride back to O'Hare. It's quite a walk, and I warned her, but walk we did. By the time we got there we were both red in the face but congratulating ourselves on what great shape we were in. (grin) My hotel was 2 blocks from Union Station and about a block from her CTA stop, so I just went and checked in.
My feet hurt, so I took my shoes off and found that I had walked blisters on the balls of my feet!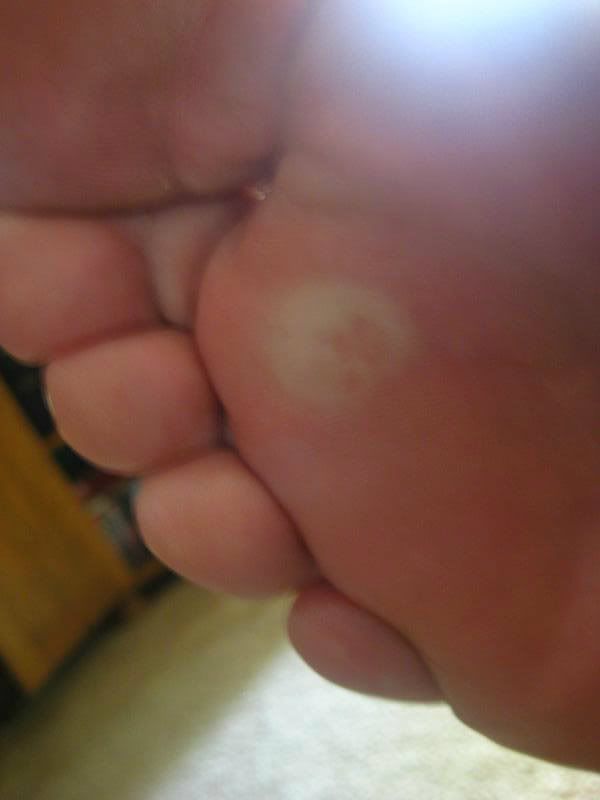 Yup, matching one on the other foot, LOL, and the next morning I hobbled the two blocks to Union Station to get the 7:30 am train back home. No breakfast because even at Union Station the only place open at 7:30 am is McDonald's and Cinnabon!
Robin's only casualty seemed to be the loss of one of her favorite earrings and she called the next day and told me she'd lost another one that day. Chicago seems to have an earring sucking vortex, but I did suggest that she tell her boss that there was a Cartier up on Michigan and that would make her feel better. She thought a gift certificate would be nice. (grin) I don't think she got one....
Robin, it was wonderful to meet you, and I had a great time, but the next time we're taking a taxi back to the train stations. I guess I'm not in as good condition as I thought, I used to walk that with the girls without a problem ....about 10 years ago. :-)
Oh yeah, I'm going to make you walk me all over Nashville one of these days....
Annie