RS6220 TStat, Confirm w/2stage Wiring Pls
Can someone verify for me this RobertShaw 6220 Thermostat is wired correctly (for Coleman 2Stage 16/14 DBYX-F036D110). Specifically, that Y2 post is unnecessary for Stage2 cooling to actually work?
The image at the bottom is the wiring, as-installed, by my installers.
Below is the link to the wiring diagram, from the Installation Guide, for the Non-Heat Pump configuration for 2stage heat/cool.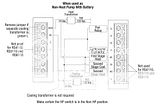 When Stage-2 cool is needed (temp differential is beyond the thresh, in my case 3 degrees) , the cool DOES come on.
and tstat will SHOW Stage-2 symbol appropriately, but it doesn't "sound" or seem any different as far as noticeable air-flow or compressor noises - but that's good news, not a bad symptom, if the unit IS really operating correctly.
It doesn't seem right though, especially since the Stage-2 heating post is wired.