A/C unit for 2nd floor of A-Frame house
We just got a 2nd home on the eastern shore of Maryland.
It is A-frame style with an open loft and bedroom upstairs. There was a supplemental heat/ac unit in the wall but it is not operating. We had someone look at it and said it is not worth repairing (2001/ freon style) and they are recommending a Fujitsu 1.5 ton ductless system on the wall above our bed at a cost of "high $3000s) . Ouch!
For one this seems like a lot of money to cool a fairly small space(maybe 400 sf tops) and to have an eyesore of a unit above our bed! AND in order to cool the open loft area outside of the bedroom, we have to leave the doors open! After questioning this , we were told we could put in a vent in the transom area above the doors we just added.
There has got to be a better way I would think! I realize cooling (and removing hot air) from the lofted high ceilings is difficult but....
please tell me there is a better and cheaper way!
The bed is centered below this window. They want to mount the new unit high on this wall:
As you come up the steps, the guest/daybed is straight ahead (you can see the old A/c heating unit) , turn right and the new doors leading into bedroom were installed.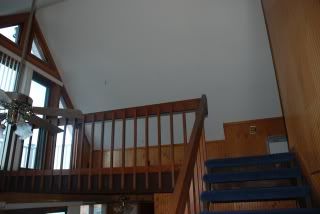 We just added these doors to separate the open loft area from the bedroom. we will occasionally use the loft area for extra guest /kid sleeping