Kitchen progress update (slow) and question for counter material
Well, the kitchen progress is s.l.o.w.l.y. moving along. *sigh*. Cab guy is no speed demon but oh well. The range hood was to have been delivered last Saturday afternoon but no show thus far.
I've been focusing on packing and moving household items the past couple weeks so the whole thing is moving forward. Anyway, we've gotten one cabinet installed: the liquor cabinet in the pantry alcove. It had to be installed before the trim guy could finish out this area. We've bought barn door hardware and will have a sliding door over the food pantry part of this alcove and there will ultimately be glass (TBD) in the cabinet doors.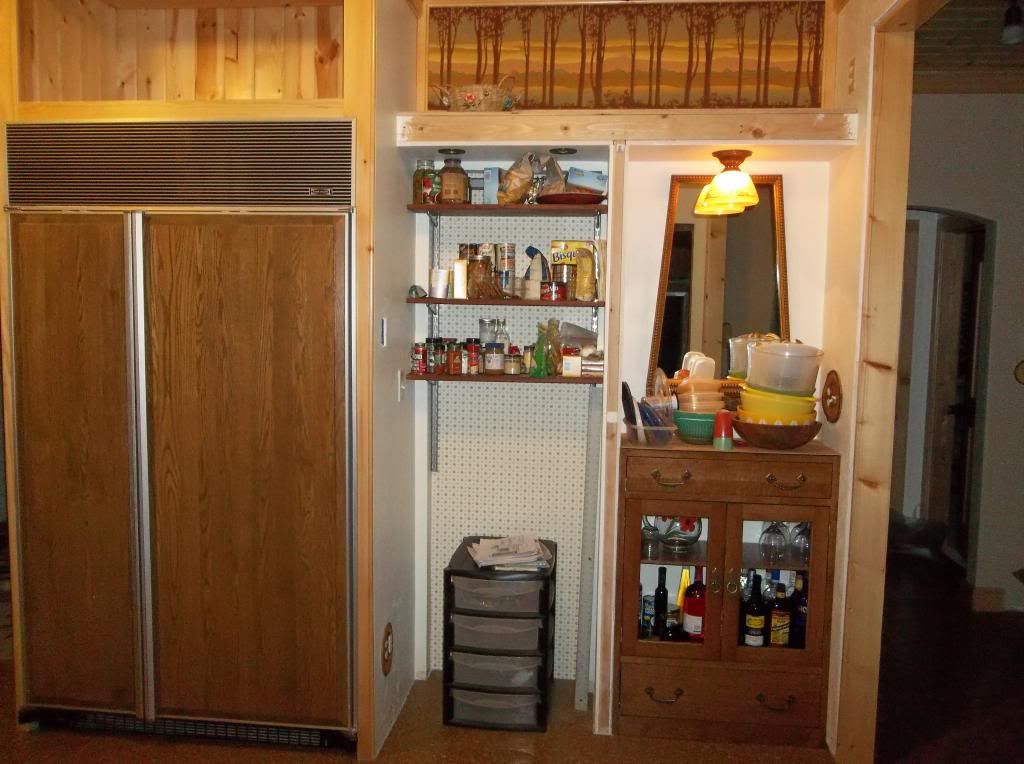 The light is an antique reverse painted fixture that I found at a rummage sale years ago and the mirror is one that I've had for a long time... glad to have found a spot for it here! (Picture fresh flowers instead of the pile of bowls and crap that you see there now, lol)
For anyone that remembers, we supplied white oak planks (that DH cut years ago) for the kitchen cabinets. There is quite a bit of quarter-sawn in some of the boards, so we thought to use that for this cabinet, since it's removed from the kitchen cabinets proper and sort of marks our 'dining area' in this teeny house. I had him use a chestnut stain as well... the kitchen cabs will be a lighter pecan stain. We're happy with how it turned out but now the question I have is about the counter for this cab. I need a piece of something about 30" wide x 12.5" deep and I really would like to find a remnant of rainforest green (still have never gotten sixtyohno's counter out of my system) but I've been unable to locate anything other than 12" rainforest tiles locally. Does anyone have a source anywhere in this country for some rainforest remnant OR any other ideas for what would look nice here. I'd like to pull some colors from the Bradbury paper over this area (which is why the rainforest would be so cool, IMO). Would a rainforest tile counter look clumsy with 2 seams in the top and front edge in such a small space?
The counter in the kitchen area is 98% decided to be luna sand Formica solid surface, if that matters, but as I said this cabinet is kind of it's own little island in the kitchen design.
Any ideas or opinions about my counter question?
Here is a link that might be useful: sixtyohno rainforest counter