Kitchen Design - Take 2
This is a sketch of the main floor of the house:

First off. We will be taking the kitchen down to studs and running gas for the rangetop. Water and electrical can be moved, so all appliances can be moved.
Ceiling height 105.5"
Here is a sketch of the kitchen completely empty:

Appliances:
Existing: Sub Zero 650/S Fridge (36x27x84)
Existing: Maytag MMV5156 Above Oven Microwave (30wx16h)
Electrolux EW30EW65GS Double Oven
Samsung 80F800 Dishwasher
Edgestar TWR282S-KF Wine Cooler (18" wide)
Wolf 45" Low Profile CTEWH45 Hood
36" Gas Rangetop (Still Deciding between Capital, Wolf and Dacor)
Goal:
An organized, working kitchen for a busy family.
Must Have:
Gas Cooktop/Rangetop
Passthrough to Dining Room
Wants:
Seating for Kids
Small "Bar" area for wine and mixing drinks (wife's fancy coffee maker would go there as well)
Undercounter/hidden trash cans (tired of the dogs getting into the trash)
Family Makeup:
Wife and I are in our mid 30s. We have a 10yr old son, and a 4yr old daughter. We have two dogs as well. One is a gigantic boxer.
Cooks:
My wife and I do cook. I do most of the "family" cooking, and she does most of the "party" cooking.
Thanksgiving and Christmas are always at our house, and will have 10-20 people, with 1/3 to 1/2 kids. Aside from that, we might have some friends over a few times a year. We're not huge on entertaining.
The kids tend to 'hang out' when we cook (no matter how many times we ask them not to). So instead of fight it, we'd like to give them some seating in the corner. We were thinking a corner nook similar to: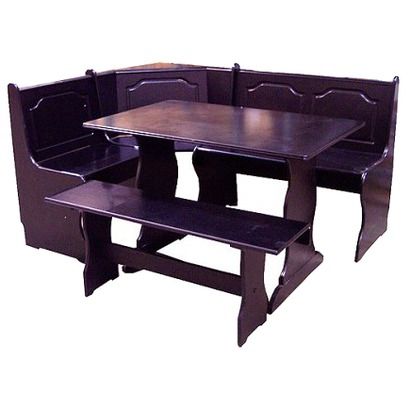 We have a separate dining room that we eat in most of the time. We would like to open the kitchen up to the dining area. We feel a passthrough would open up the rooms, and provide a place to put food for serving during regular meals or while entertaining. It would not be used as seating/eating area. We will make the passthrough fancy on the dining room side with something similar to this:
We will have something nice in the kitchen too, but not nearly as fancy.
Here are two designs we came up with:
Organization Concerns:
Originally I was going to have a pot rack over an island, but we nixed the island. I think I can put the pots/pans under the Rangetop. Never know where to put the lids though.
We like the plates/bowls in a lower cabinet so the kids can get dishes for themselves easily. Cups would be in an upper cabinet.
We currently have *ONE* full size drawer in the whole kitchen for the silverware. It is under the cooktop and the worst possible place ever! I want to ensure that doesn't happen again.
As always, all thoughts, ideas and comments are greatly appreciated!
Thank you!
This post was edited by Dizzy149 on Mon, Jan 27, 14 at 3:47