Layout review for a newbie!
design_bot
January 16, 2014
We bought this house for the lot/location/schools/reasonable size and price. We did not buy it for the layout, anything at all about the kitchen -- or much about whole house for that matter.
So now it is time to renovate. Family of 4, 2 kids ages 10 and 5. I'm the mom, and I cook a fair amount. Right now, I chase everyone out when I cook, am hoping to open the layout enough to avoid that. We entertain in small groups but it is just a bad setup even with one or two more couples over here. I'm often the only cook. I had wanted a wall oven, but gave up on it due to the space constraints. I tend to collect kitchen 'stuff.' I have some pans just because they were pretty. My kids sometimes help cook, and with my youngest starting kindergarten, she'll likely do homework in the kitchen. We can clutter up a kitchen fast, so big sinks are important.
It is an interesting space. If our old house had sold for more, we would have added on, but now it looks like we need to work with what we have. So that means a kitchen stuck behind a staircase, with 4 entrances, a window, and an hvac vent running along one side. I'm hoping to turn the vent into a feature with reclaimed wood. The 'bar' in the new plan will have an eyepopping countertop.
I've spent most of the day learning a bit about Ikea's planner, and working something out, and would love comments/ideas/suggestions. I'm worried that I don't have enough counter space and that it is too disjointed. And almost no upper cabinets, not really sure how that would work out.
I didn't try to perfect the layout, due to not knowing all the specs. Hoping the wall between the range and bar can go or be reduced, not sure if my idea to support the ceiling with beams is feasible, etc. Need to find a contractor.
Also hoping to redesign the windows -- enlarging the kitchen, and adding some new ones in the dining room. We have an amazing wooded back lot that should be highlighted more in the house. Need to talk over that with a contractor or windows people too.
I'm spending a lot of time going over old discussions of budget choices for kitchens. Ikea is certainly a possibility, but perhaps something else too.
I absolutely adore the kitchen kraft thunder finish on cherry, and am trying to banish it from my brain! ;)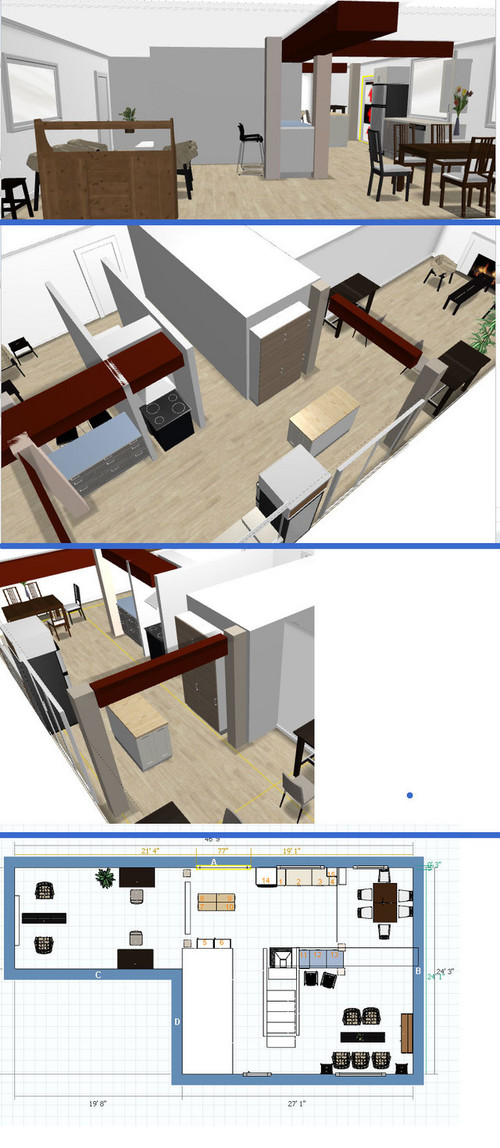 Here is a link that might be useful: Old kitchen