Table converted to island--link to pics.
mama goose_gw zn6OH
September 27, 2010
We are a long way from a finished kitchen, but I wanted to post pictures of my almost-finished island. The pictures have captions, but some background:
We purchased a used marble-top table via craigslist, then with about $55.00 worth of new materials, and some left-over paint, made it into an island with storage. I love it!
I've posted this link in Smaller Homes Forum, too.
Image link: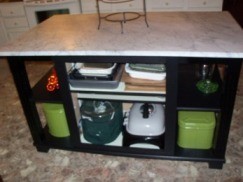 Here is a link that might be useful: Marble-top kitchen island