rmkitchen's Finished Kitchen for the FKB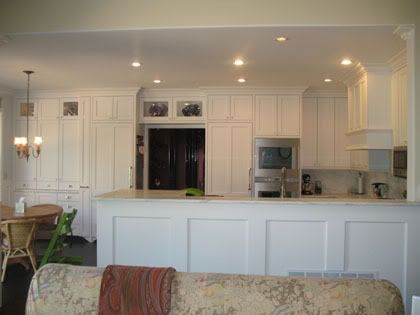 Our finished kitchen album can be seen here.
With the risk of coming across as gauche I am going to include approximate prices for our items (for our kitchen which was done January - May 2008). I was terribly nae when it came to determining our budget and found it immensely beneficial when others here would give prices. (in all fairness, it sometimes made me feel bad either that we werenÂt as hoity-toity as others as well as making me feel ridiculous for spending so much when others achieved fabulous kitchens for a fraction of our budget) It gave me a real-world benchmark, and hopefully it will help someone else put their own project into some perspective. I wish more posters would share their budget  I think itÂs that helpful. Let me preface this by saying I'm in Boulder, CO -- prices will vary continent-wide. We are less expensive than the San Francisco Bay Area and more than RTC, NC.
Caveat: I absolutely believe and know our kitchen could have (and IÂd argue should have) been done for significantly less. Like our gorgeous countertops / backsplash were ridiculously expensive and I could have had a white marble for less than half. However, every time I look at the marbles from which I could have chosen I realize I would have been v. unhappy and any amount spent on them would have been too much. So it was "smart" to spend more to get what I really wanted and what I LOVE. ("smart" having a v. fluid definition depending on my mood!)
We (I) shopped around like crazy (love the internet!) for our appliances, hardware, etc., and feel I did a fabulous job getting the best prices for these itemsÂeverything was either on special or purchased on sale or using some sort of incentive. But at the end of the day, the appliances were still expensiveÂexactly what we want / need, though. At the end of the day, the hardware was still expensiveÂexactly what we want / need, though. At the end of the day, the cabinetry was still expensive. (Although I actually have mixed feelings about thisÂfor the level of detail I wanted and all the bells & whistles we got IÂm not sure it was expensive. The semi-custom lines at which we looked [i.e., Cuisines Laurier, DuraSupreme] were coming in significantly higher. If we'd gone with framed we could have come in for less, but not gotten the exact door / hood I wanted. If there were an IKEA nearby [the closest is in Utah], we probably could have used their boxes and had doors made up elsewhere. But we went neither of those routes.)
Our kitchen is approximately 13Âw x 21'l (not completely true, as only one side is 21' long; the other wall is 11 1/2'). Our ceiling is 9 high (the upper cabinets are 47 ½" high with crown moulding running from the top of the cabinets up to the ceiling).
cabinets, ~$55K
custom frameless painted (catalyzed lacquer) a custom white, island painted BM Onyx
all drawers full-extension with Blumotion glides and all doors with Blum soft-close hinges
one Rev-A-Shelf wood drawer divider
one Rev-A-Shelf plastic double tier flatware divider
custom wood drawer dividers (five drawers)
steel pegboard "broom closet" pull-out (thanks to dianalo for sharing inspiration pictures)
three chrome pull-out pantry units (Rev-A-Shelf)
four spice pull-outs (Rev-A-Shelf)
pegboard with wood "divider" dowels in (three) dish drawers
foot pedal four-canister trash / recycle unit (thanks to lowspark and alku05 for the foot pedal instructions), Rev-A-Shelf
magnetic chalkboards (two)
hood (design inspiration courtesy of mwardlbÂs lovely hood)
maple butcher block island countertop with bow detail
tempered, safety glass-front doors and glass shelves
delivery and installation of these cabinets and attached custom crown moulding (but not including cost of custom crown which was ~$350)
appliances, ~$22K
refrigerator: Thermador 30" Fresh Food Freedom Column T30IR70
freezer: Thermador 30" Frozen Freedom Colum T30IF70
oven: Gaggenau 30" BX281610 convection double oven, (thanks to the supportive folks in the Appliance forum who talked me through this decision & held my hand as we waited five+ months for its delivery)
cooktop: Thermador Professional Series PCG366E 36" gas, six burners
vent: Broan 900 cfm external blower 332H
microwave: Sharp Over-The-Counter R-1214
refrigerator drawers: GE Monogram 24" ZIDI240PII
(delivery and installation of above appliances was ~$700)
instant hot / cold faucet and tank: Mountain Products Little Gourmet MT1401
under-sink water filter: Culligan
sink: Bates and Bates S2133.SS stainless apron front
faucet: Pegasus Professional Kitchen, from Expo (thanks to susanandmarkw)
soap dispenser: Danze Parma
dishwasher: KitchenAid KUDS03FTPA
air switch for above-sink light: Mountain Plumbing, stainless
disposal: Insinkerator Evolution Cover Control
hardware, ~$1,100
pulls: Restoration Hardware 4" Gilmore Pulls, polished nickel
knobs: Restoration Hardware 1.25" Cut Glass Knobs, polished nickel
fridge / freezer pulls: Hickory Hardware Studio 13" bright nickel
broom closet pull: Hickory Hardware Studio 5" bright nickel
lighting, ~$300
undercabinet lighting: Pegasus Associates Microfluorescent T4 fixtures
lighting inside cabinets: line voltage (120V) xenon pucks, American Lighting
countertop & backsplash, material, fabrication and installation ~$19K
Calacatta Xtra (seriously, thatÂs its name), honed, 3cm, with eased square edge  thanks to mnhockeymom for the inspiration!), runnels and a dishdrain
backsplash: Calacatta Xtra, 2cm
island butcherblock countertop provided by cabinetmaker
painting, ~$1K
walls: BM 871 Pearl River, Regal Matte Finish
ceiling: 50% BM 871, Regal Flat Finish
wainscoting: BM Impervo, custom to match cabinetry
toekicks: BM Onyx (which I painted myself with "help" from our puppy)
floors, price unknown as bundled in with installation of hardwood for entire first floor and staircase
red oak, "popped" with water then one heavy coat of Dura-Seal Ebony Stain (thanks to my husband for finding out how to get the dark finish I wanted from red oak), three coats of Bona Satin Water-Based Sealer
construction, ~$16K (I think, as it was bundled in with a nearly-whole house remodel)
removal of old cabinets, closing up old doorway to dining room, framing new entrance to dining room, moving almost all electrical plus some new, moving all plumbing plus much new, drywall (inc. smooth-coating existing orange-peel), fabricating / installing wainscoting in breakfast nook and sink wall facing family room and new casing around sliding door and window, crown moulding installation and painting
kitchen designer, $3K
we contentiously parted ways v. early in the process, but not until she had suggested moving the doorway to the dining room down the wall, and we love this change
Things we love
or, what we did right
-Sans doute moving the opening into the dining room down the wall so as to make a U-shape kitchen was the smartest thing we did. It has increased the function / made better the ergonomics tremendously!
-Full Marble Backsplash. It's gorgeous and I LOVE getting to see my true love, the marble, from many different vistas. If we'd had the marble as just our countertop the only time I would've seen it is when I was working on that counter. Now I can see it when sitting in the breakfast nook, when walking into the family room. It is absolutely the star of our kitchen!
-Large, single bowl, apron front sink. Having all that continuous room for washing large pots / pans / baking dishes is so incredible! I love how the apron front eliminates any lower back pain not far to reach into the sink. We also have no splashing, as opposed to what we had with a shallower, drop-in sink.
-Raised dishwasher. It just makes sense! I know many love their dishdrawers but as we run a full or nearly-full dishwasher nightly, it would not have made sense for us to have dishdrawers.
-Side-opening wall oven. I was on the fence a long time on this one: that oven set (the Gaggenau 30" double wall ovens) was really expensive, but oh how we love the side-opening mechanism! It just makes so much sense.
-Foot pedal trash. Hands full of broccoli remnants + foot pedal trash = genius.
-Magnetic chalkboards  my children adore them! My older son (four years-old) loves drawing his robots and writing; my younger son (two years-old) loves standing and "coloring." We love being able to keep our timer and grocery list in a central and easy-to-locate spot.
-Full freezer and full refrigerator: we wonder how we lived before with combined units. It sounds insane, but for our vegetarian family with little children we are absolutely utilizing these separate units to their fullest.
-Polished nickel hardware: itÂs beautiful. ItÂs just beautiful, and it takes a lot of work to get them looking icky / dirty; plus, I have to say they are a breeze to clean (when they do get icky)!
-Integrated Dishdrain: we had it carved into the marble on the right side of our sink (our dishrack sits atop it), and we LOVE not having a puddling countertop. We love not having a wet dishtowel or a rubber mat.
-Flatware and Dish Drawers right next to the dishwasher. Unloading the dishwasher requires just the slightest turn of the hips  itÂs an ergonomic dream!
-Getting our puppy one month to the day after the remodel started (and three months before it ended). It was such hard work  miserably hard, puppy-training and living amidst chaos (as we were doing nearly the whole house). But man-oh-man am I glad we did it all at once! I am so grateful to have had all the ick and dreck at once. (SheÂs a Cavalier King Charles Spaniel and we swear sheÂs part-cat: v. gentle, smart, affectionate. SheÂs never ever growled / been angry with our two little children, and our youngest is not the gentlest. He loves the puppy, but his love can be a bit rough. Cavaliers are also known for loving cats, and our youngest cat is the puppyÂs best friend. They adore each other. But the puppy really really loves the children.)
-Not fighting. In our normal lives my husband I occasionally bicker  weÂre married and weÂre both strong, opinionated people. But for some strange (and miraculous) reason, we never had a fight during the entire remodel; we got along splendidly and truly were a team. Well, maybe not a team: I was definitely The Chief, but he was 100% on board and totally supportive. I wish I knew why that was because IÂd like to bottle it!
Things we donÂt love
or, things weÂd do differently
(There are only two things we absolutely wish weÂd done differently, things which we notice [and which irk us] on a daily basis. IÂll list those two first.)
#1 thing which drives us crazy
-Think about where countertop accoutrements (inc. countertop appliances) would live when planning light switches. I had one undercab light switch put, I thought, in an inconspicuous spot near the corner. I absolutely should have figured out where IÂd be putting our toaster because, as it happens, the toaster now blocks the light switch. WeÂve tried moving the toaster around but thatÂs just the spot where it makes sense. But yet it doesnÂt make sense because it blocks the light switch. This is already frustrating and totally stupid on my part!
#2 thing which drives us crazy
-Pantry pull-outs. HATE them! Maybe hate is too strong a word (not really), but we realize now we would have been so much happier with standard shelves, not even roll-out shelves! (although those are divine) We have the pantry units from Rev-A-Shelf and find a) they are "adjustable" in name only, b) they donÂt hold as much as youÂd think, and c) a space-waster. If weÂd had shelves we could have stacked cans or seen at one glance all our dry-goods. As it is, we have to pull out three separate units and honestly, we think itÂs crap. Never again!
(These other things are things which weÂd do differently in the future but which arenÂt frustrating us daily.)
-Broom Pull-out isnÂt deep enough to hold our stick vac. WeÂd told our cabinetmaker it needed to be 6" deep, so the pull-out door is 6" deep, but the way he built the support for the steel pegboard eats up an inch, so the interior usable space is only 5" deep  and not enough to hold our stick vac.
-24" deep lower cabinets. Too shallow! We didnÂt realize until too late (as in, unpacking into this kitchen) that our penultimate kitchen had 32" deep lowers. What a difference! In all fairness to myself (as in, trying to make myself feel better), given the tight quarters of this kitchen we could not have afforded even 30" deep lowers; well, we could have, but then we would have lost our island which we are really enjoying. Next kitchen will be really different!
-Symmetry. I donÂt know if itÂs just for symmetryÂs sake or for my husbandÂs, but flanking either side of the cooktop are spice pull-outs. Granted, heÂs got them both filled to the gills with his goodies, but I could really use those 6" in my stack of baking supply drawers. Given the particulars of the layout of our kitchen the symmetry there would not have mattered.
-Having our microwave built-in. My husband was adamant he did NOT want a built-in microwave (the kind which have the trim-kits, I mean), so we found the Sharp over-the-counter microwave. Turns out there was some sort of "miscommunication" with the GC (so I guess IÂm responsible). The "problem" is that the drywall behind the microwave wasnÂt removed and reframed so as to accommodate the 1.5" the microwave juts out past its surrounding cabinetry. ItÂs already not bothering me so much, but when I do think about it I think "I wish weÂd been clearer." Hopefully IÂll learn to live with it because I just donÂt want to pay for the work!
-Double Ovens. WeÂve always (well, in the US) had double ovens and I love to bake, so I never thought of a single oven. But so far, IÂve only been using one oven and as weÂre the strictest of vegetarians itÂs not as if weÂll ever have a turkey in one and pie in the other. I think how differently the space (& money) could have been utilized Â. Who knows?
Why We Chose a Pure White Kitchen
I happen to love a white kitchen (clearly). I also love a creamy kitchen, a modern kitchen, a wood-tone kitchen and a colorful kitchen. Based on the layout of our house (both the floorplan as well as orientation), as well as our existing furniture, I knew "traditional" would make the most sense for this kitchen, and I am not complaining!
Our kitchen is also an interior kitchen: there are two windows in the breakfast nook end (one faces due north, the sliding door west), and the windows in the family room are all also facing due north. We get no direct sun in these rooms. The windows are large so do let in the light, but the quality of that light is different from a room which faces (predominantly) east, south or west.
It also might be my imagination, but I find the light here (in the Rocky Mountains, 5,400 feet elevation) to be a white light. When we lived in the San Francisco Bay Area the light had much more yellow to it, but here, it's clear and pretty white. I know artists like north light because of its purity, so maybe that's what I'm seeing. ???
Anyway, so based on our lighting conditions and based on my desire for a bright, cheery, and bright (again) space, pure white was really the only choice. Oh we tried many variants of creamy colors, inc. my beloved BM Calming Cream (which is the trim throughout our house -- it is the palest yellow, like a really old oil-based white paint which has yellowed with time). But none of them were "right." None of them gave me the bright, cheery, and bright (again) space I wanted and, for my emotional well-being, needed. (I feel blue in underlit, dark spaces.)
I still feel lust when I see all these gorgeous creamy kitchens posted here on GW, but in my heart-of-hearts, I know those would not have worked in this particular space.
I also appreciate that there are some who are quite vocal about their distaste for a white kitchen (or all-white anything), and I can appreciate that. Believe me, I do NOT look good in all-white (I am really fair and I look washed-out when wearing too much white, esp. a white shirt without a big necklace to break up the white from the shirt and the white from my face!) But this is absolutely the right kitchen for this space and for us in this space. When people have come over, the kitchen makes perfect, natural sense in the context of the rest of our home (and its furnishings). Can't beat that!
About the black island: I like it, but I do sometimes wonder if a dark, stained island would have been better. I just don't know. At the time (of planning), I was against it because I was worried how it might go with or fight the floor color. But what we have is this soft black and I like it!