Calling all long -term white/light silgranite sink users
After lurking here for a year and reading until my eyeballs hurt, I decided to embark on a much awaited budget kitchen facelift and got so many great ideas from you all. Thank you to all who responded to my newbie post and offered such thoughtful advice! (Full disclosure: I gave serious consideration to the idea of waiting a while longer to stockpile more funds, but the truth is that I've already waited 10 years and just don't see myself ever justifying the cost of a serious remodel, at least while my children are young and college funds call). So, off I go!
Cabinets will be hand painted white with nickel hardware, ss appliances, medium toned wood floor.
I originally wanted marble but decided I just can't live with the patina, explored Cambria Torquay (lovely, but not quite right for me), and took a chance on a granite my fabricator recommended: river white. Love at first sight! Never knew I was a granite girl. The question now is whether to choose a single bowl Silgranite sink in white/some other light color or ss? I was all set to go with ss, but now I'm wavering.
For those of you who have a white or light colored silgranite sink, can you comment on how it holds up long term, in terms of staining? We currently have a white porcelain sink, and it's a nightmare to maintain. Is there another silgranite color that might work with this granite? (My apologies for the poor photo quality)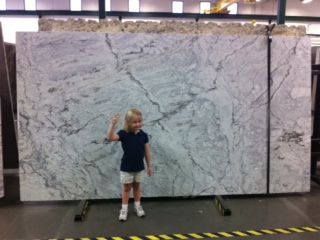 Thanks so much for reading. Seems I can't manage to compose a short post :)