cat_mom's finished kitchen (double posted from discussions)
Well folks, months after completion, our kitchen is finally ready for the FKB. Okay, as ready as it will ever be! We are awaiting resolution of our Wolf range burner issues, need some accessories, and might swap out our backsplash switchplates, but for all intents and purposes, I give you cat_mom's kitchen:
Details:
Link to my photobucket album: http://s141.photobucket.com/albums/r53/cat_mom/kitchen/
Our cabinet company: http://www.royalcabinet.com/ (our cabinets are cherry veneer in a "flame" grain pattern with slab doors, with a very light, "watered down" stain, grain matched from top to bottom of each cabinet/drawer stack, and side to side where possible or necessary, matching cherry wood light rails under the upper cabinets, maple veneer interiors, plywood boxes, wood shelves, dovetail drawer boxes, all wood full-width pullouts).
Our handles are from Valli and Valli: http://www.vallievalli.com/vcrmobile/home.php?lingua=eng&page=serie&id_serie=389 (style A 230 in sizes A, B, and C).
Hidden pulls are from Hafele: http://www.hafele.com/us/external/catalog/decorative/244-259.pdf (Page 245, the black one, but the smaller size--not as wide).
Julien sinks (Nicole Arsenault in Customer Service is a doll!): http://www.julien.ca/en/products/residential/index.html (ours is from the urban edge collection; model # 3715; 30" X 17" X 10", plus the matching sink grid).
Grohe faucet; the Ladylux Caf http://www.grohecatalog.com/product/33755/ (we got the all stainless steel version, see bottom of page), the soap dispenser (Model # 28 857 SDO,stainless steel) and the Ladylux Pro pot filler faucet (stainless steel): http://www.grohecatalog.com/product/31042/.
Handles, sink, faucets, and soap dispenser came from Hardware Designs in Fairfield, NJ: http://www.hardware-designs.com/ (Sean SweeneyÂgreat salesperson!).
Wolf Range: http://wolfappliance.com/ (we got the Wolf AG 36" with six burners; Model R366), purchased from Leibert's Royal Green Appliances: 228 E Post Rd White Plains, NY 10601 914-949-5999 (they do a lot of Wolf/SZ volume, so offered good pricing on our range).
Pando hood: http://www.pando.es/ (we got the P900, not sure if itÂs on their site, which isnÂt a great site by the way).
Miele dishwasher: http://www.miele.com/usa/dishwashers/product.asp?model=353&series=76&cat=2 (Miele Optima, fully integrated).
GE microwave: http://products.geappliances.com/ApplProducts/Dispatcher?REQUEST=SPECPAGE&SKU=JEM31SF&SITEID=GEA (JEM31SF with trim kit).
KitchenAid 42" built-in refrigerator (in stainless steel): http://www.kitchenaid.com/catalog/product.jsp?src=Built-In+Refrigerators&cat=89&prod=1284 (KSSC42QTS)
Dishwasher, microwave, range hood, and refrigerator came from RenoÂs Appliances (Elmwood Park, NJ store, now moved to Patterson, NJ. Also located in Fairfield, NJ): http://www.renosappliance.com/
Andersen 6 ft wide three window bow window: http://www.andersenwindows.com/servlet/Satellite/AW/AWProduct/awProductDetail/AWProduct/1135095640489/1102951372825?model=400+Series+10+Casement+Bow+Window&pc=Window&tab=1-1 (Pine interiorÂstained to match the cherry cabinets, Terratone exterior, Tru Scene insect screensÂwood veneer interior stained to match the cherry cabinets, satin nickel Estate handles/hardware).
We got all blumotion glides and hinges on our drawers, pullouts, and cabinet doors. All glides are 75 lb rated except for the mixer pullout which is 110 lb rated. We also got the soft close hinge clips from blum for all the hinges: http://www.blum.us/usa/en/index.jsp Most of the hinges are 150 or 170 degree opening hinges (except in doors that just canÂt be opened more than 90-110 degrees because of their location. Those will keep the 110 degree opening hinges). The 170 degree hinges allow for full width pullouts, and seem to be easier on the edges of the doors themselves.
Our granite is called Labrador Golden Flake: http://www.igmcorp.com/pGranite/labradorGoldenFlake.html (the place we got it) http://www.thegraniteshop.net/materials/02expanded/lab_golden_flake.htm (another picture, maybe a better representation of it).
You can see pictures of our actual granite in my photobucket album.
Backsplash is from Artistic Tile: http://artistictile.com/Collections/?place=3191&category=33 (Stilato pattern in Wolfgang White; installed vertically).
Wood switchplates are from Arnev Products, Inc.: http://www.arnev.com/ (cherry on message center wall and on island, ordered unstained/unfinished and then stained and finished by Royal Cabinets to match the cabinets, maple ones used inside one or two cabinets, ordered with poly, no stain).
Our under cabinet (U/C) lighting is Kichler Linear Lighting (xenons) with black tracks, wiring, stabilizer clips, splicer boxers, and bulb holders:
http://www.kichlerlightfixtures.com/Kichler%20Linear%20Lighting.htm http://www.littmanbros.com/pd_kichler_linear_lighting_molded.cfm
Our fan is from the Matthews Fan Company (Edwin is a great help with any questions!): http://www.matthewsfanco.com/Matthews%20Pages/Bettina-Main.html# (the Vent Bettina in polished chrome with mahogany blades).
Our heating in the kitchen consists of two toe kick heaters from Turbonics http://www.turbonicsinc.com/ (two Kickster +4Âs, one on each side of the island).
Our counter stools are from Design Centro Italia/italydesign.com (Nathan): http://www.merchantmanager.com/ita6377/MM001.ASP?pageno=933 (Baba black leather counter height stools).
Our stepstool is from Williams-Sonoma: http://www.williams-sonoma.com/products/h167/index.cfm?cm%5Fsrc=PRODVIEW&showsku=6049753 (Ultraslim Compact Aluminum Step Ladder, 2-Step).
Our dishtowels are from Wm. A. Kilian Hardware Co. (online): http://kilian.stores.yahoo.net/ritflemwonto.html (Ritz Flemish Wonder Towel).
White oak floor, no stain, 3 coats Bona Traffic poly.
Walls are painted with Benjamin Moore White 01 wall paint in AquaVelvet finish.
Some pictures: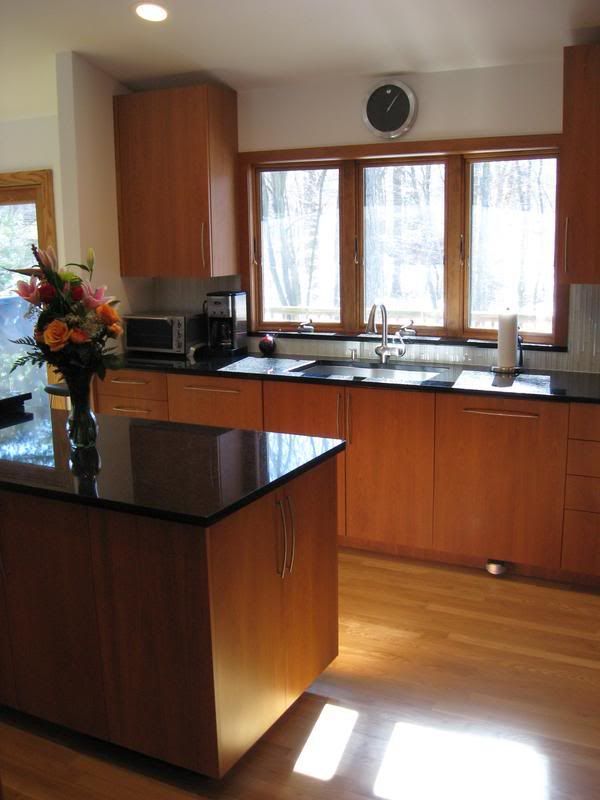 More pics will be added to my photobucket account/album(s) within the next day or so.
I want to thank everyone here for their advice, encouragement, and support as we made our dream kitchen a reality! I learned so much and I know we couldn't have done it without you all in our corner!