Eat in kitchen layout: where to put table???
suburbanjuls
November 30, 2012
Hi all, I am once again picking up my kitchen remodel after a change in contractors from this spring. I currently have a 1995 builder grade maple kitchen that is just under 10x10. It is offset from the eat in kitchen and family room due to the location of the powder bathroom, which cannot be moved. There is an entry door from the garage that is within this space as well. I am wanting to get rid of the peninsula to open things up, but I am concerned about where have seating for four. Currently I have two seats at the peninsula, four at a table, and storage on both opposite walls. I feel suffocated and cramped all the time. Help!
We are a family of four with two children, ages 6 and 11, and will likely be in this house until my youngest finishes highschool according to the hubs. I am kinda freaking out at the thought of being here so long as this house is only 1700sqft. But, we are in an outstanding school district and we already have decent equity, as we have owned for the last 8 yrs. So, no plans to move directly, but it does need to function for us.
I have no pantry right now, so I want to put a tall, shallow one on the wall by the patio slider. I also want to put some storage on the wall bordering the half bath. I do realize in a space that is roughly 12.5 ' wide, I can't put things on both walls and in the center and have any chance if not feeling claustrophobic.
My choices are, building a banquette similar to the one shown here that will jut out from the bath wall, creating a walkway that is not direct when coming from either the garage entry door as well as from around the corner. I set this up and liked it but the room did feel lopsided, since the bathroom juts out already, with seating and a table even more so.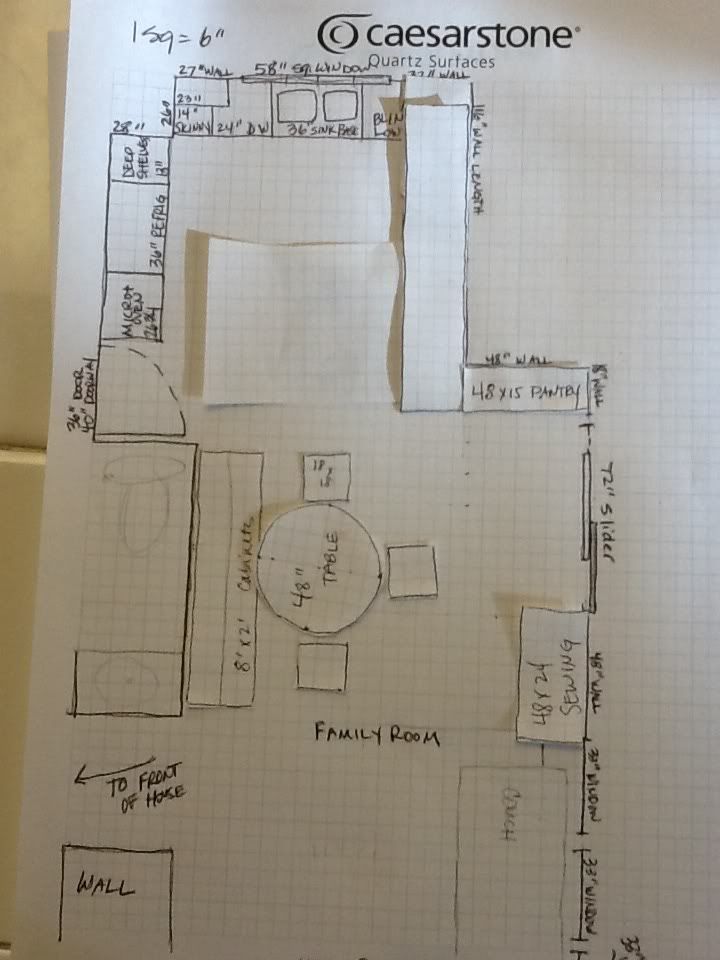 The next option is a 4' round table centered in the leftover space from doing a bank of uppers and lowers with countertop on the bath wall, pantry on the corner wall and nothing on the slider wall. The walkways on all sides of the table are between 39" and 42", measured from the table edge not counting chairs. I set it up and it feels tight, but maybe I'll get used to it?
The other idea I am toying with is doing something with the corner and making a banquette there, I would have to replace the slider with maybe a single French door or possibly make a new opening in the exterior wall for a door. I am willing to do that IF it really would work, but otherwise we would keep the slider since there is nothing wrong with it. I am having a hard time setting this up more accurately, but put various chairs and cushions to mimic a corner bench. A corner bench is not as easy as a straight bench, and I am considering both.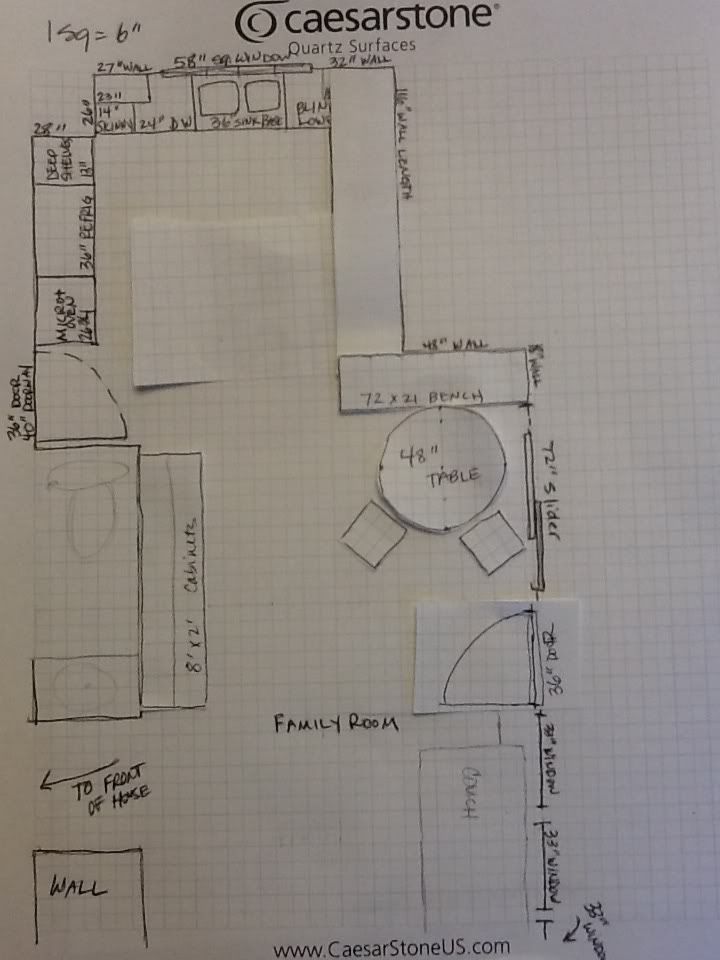 Oh yeah, I'm definitely that girl who wants to have her cake AND eat it!