James Beard lied to me...
OK, I should have known better, men have lied to me before, but not James Beard. Oh no.
I needed to bake bread and decided to try a new recipe. I dragged out "Beard on Bread" and settled on his Buttermilk Bread recipe. The recipe says it makes one 9x5 inch loaf, so I get out that pan and start measuring ingredients into the Zojirushi for mixing. Wait, isn't that too much flour for a single loaf? Nah, it can't be, it's JAMES BEARD. I forge ahead.
The dough cycle completes and I take the dough out and put it into the pan for rising. That's a lot of dough for the pan, it just seems like too much. Nah, it can't be, it's JAMES BEARD. He must know.
Into the oven and in 40 minutes out comes.....this.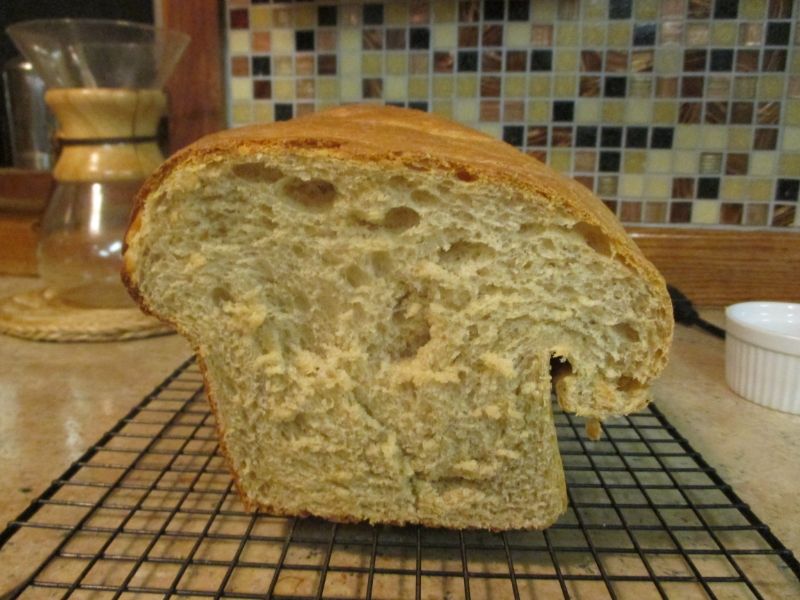 Yes, it was too much dough for the pan. The final instructions say to remove the loaf from the pan after baking and put onto its side on the rack and bake an additional 5-8 minutes. I did that, and that's why the loaf leans. LOL It has a lovely crisp crust and a soft and flavorful interior, but would easily have made two 8 inch loaves instead.
I've been baking bread for a lot of years and I should have trusted my instinct (as I should have many times in the past, but we won't talk about that now), but I trusted that James Beard would not lie to me.
I was wrong. It's a delicious loaf of bread, though.
Annie