Soliciting Thoughts On A Basement And A Kitchenette
Yes, this post is kitchen-related, it just happens to be about more besides :-)
The drawings below show my basement. SWMBO asked me - well, here is how it went.
Her: ''Would it be possible to build out our basement, someday in the future?''
Me: ''Of course!''
''Can we have a little one-bedroom unit for guests or aged parents?''
''Easy, look at how much room we have.''
''And my pottery studio?''
''Anything for you, my cherie!''
''Your daughter wants a darkroom.''
''Um, I guess, sure.''
''And we'll want the treadmill and rings and other exercise stuff to stay here too.''
''Really? Geez, that's . . . ''
''Oh, and some storage.''
''Um, how much storage?''
''Plenty of storage. Well, that should do it. If I think of anything else, I'll let you know. Tra la la!''
Our basement is 1,100 sq ft with 8 feet from floor to joists, nice and dry, and it has always seemed plenty big. Until now. Shrinkage seems to have occurred.
Has anyone experience in such things, and some possible ideas about how we might fit in a (1) little 1 bedroom in-law unit with full bath and kitchenette (see, I said there was kitchen content), (2) a pottery studio big enough for a wheel, a slab roller, a worktable, and some shelves (say 8 ft by 10 ft or similar area), (3) a small darkroom (needn't be more than 4 ft by 8 ft or similar area), (4) a laundry room (we already have the washer and dryer down there), (5) and ''plenty of storage, tra la la''???
Limitations - for this to be doable even in the future, the main and secondary plumbing stacks, electrical panel, HVAC, and fireplace foundation have to stay where they are. The water heater should stay too, although it is theoretically relocatable.
The existing windows can be cut deeper and set in wells to satisfy egress requirements as well as generally to permit life, liberty and the pursuit of light. The only place where a new window can be cut is between the fireplace foundation and the closest corner, where I've labeled GRASS YARD - actually, a walkout door could be put there.
The concrete floor can be trenched for a drain line to connect to the existing main drain, though it would be nice to minimize how much of that is done, so it would be helpful if the kitchenette and bathroom are next to each other. Electrical and water supply lines can be run anywhere before the walls and ceiling are finished off.
The kitchenette would be more than a dormitory fridge and a hotplate, but need hardly be ''reveal-worthy''. Enough for a aged parent to cook a simple meal, a few burners and an oven.
The hope would be for an in-law unit that feels like it was part of the original house, with trim and materials similar to the upstairs, and lots of artificial light - not an underground hole that you get to through the laundry room.
I know this is tough, but I'm fishing for any sort of idea. Basically, I need to figure out if this is something we should plan on doing someday; or if I need to kill the idea in the nest.
2D view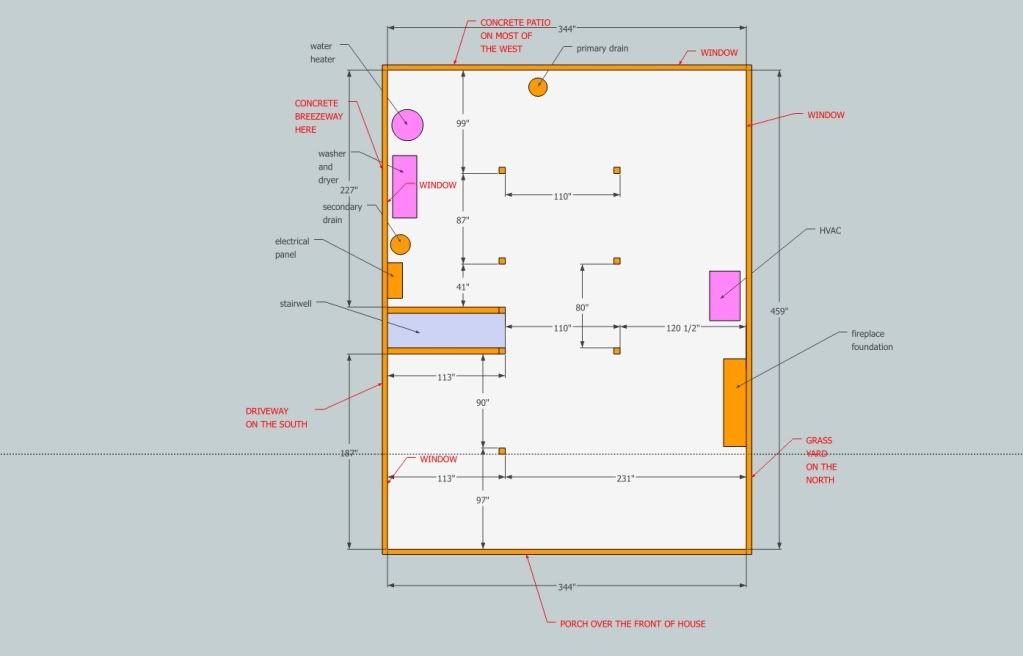 3D view