OT- We Lost a Dear Friend Today
We had to say goodbye to our sweet Libby this morning. She was our 14 year and 9 months old black lab. I know everyone loves their pets and I have had many throughout my life, but I have never found it easy to say goodbye to any of them. Libby was special in our eyes. She had a long life, but a good part of it was with health problems. We brought her home in 1993 when she was just 7 weeks old. A typical happy, energetic lab puppy, she grew into a beautiful young lab over the next few years. She was robust, head strong, loving and gentle.
At the age of 5 she had an apparent fall while outside after a heavy ice storm and was found to have 4 ruptured thoracic/lumbar vertebrae, basically a broken back. After the emergency surgery they said she might never walk again. She was paralyzed on her hind end for almost 4 months when she gradually began to regain her ability to walk. Her gait never quite returned to normal in fact when she ran she looked like a bunny rabbit bringing both hind legs up together, but she loved life and managed to do most anything she wanted through sheer determination.
The years passed, and health issues continued to rise, which at times seemed to harbinger the end for Libby, but to the amazement of her vet and many others she always managed to find the strength and willpower to prove them wrong. If sheer determination was all it took, Libby would be with us still, but time stops for no one, and LibbyÂs body was wearing out.
This last year she had been unable to walk at all without assistance. We managed to take her for "walks" in her little red wagon and she loved visiting the neighbors and her doggy friends during nice weather. My husband and I knew that we would let Libby tell us when it was her time to go. As long as I saw those inquisitive eyes, wagging tail and eager appetite I knew that she still had some quality of life. Long belly rubs and playing with her stuffed bear were still some of her favorite pastimes.
But as it sometimes happens, Libby was fine when she went to bed last night, but this morning the change had occurred. No wagging tail to greet me, listless eyes that bespoke of pain and sadness, unable to raise her head to greet me. My heart sank as I listened to her labored breath, because I knew her time had come. The vet said she most likely had some internal growths causing bleeding and pressure.
My husband and I were with her, holding and talking to her right to the end. Her passing was peaceful and I wholeheartedly believe that she is now finally free, healthy, happy, running and jumping as she had not been able to do for so long.
We will miss her dearly, as we do all our pets. She was a part of our life for almost 15 years and will always be a part of our hearts. Thank you for letting me share her with you. I know that those of you with beloved pets will understand how we feel.
Here are a few pics of our girl. They will always remind us of the many good times we shared with her.
Libby in 1998 before her back injury:
Libby always with a smile!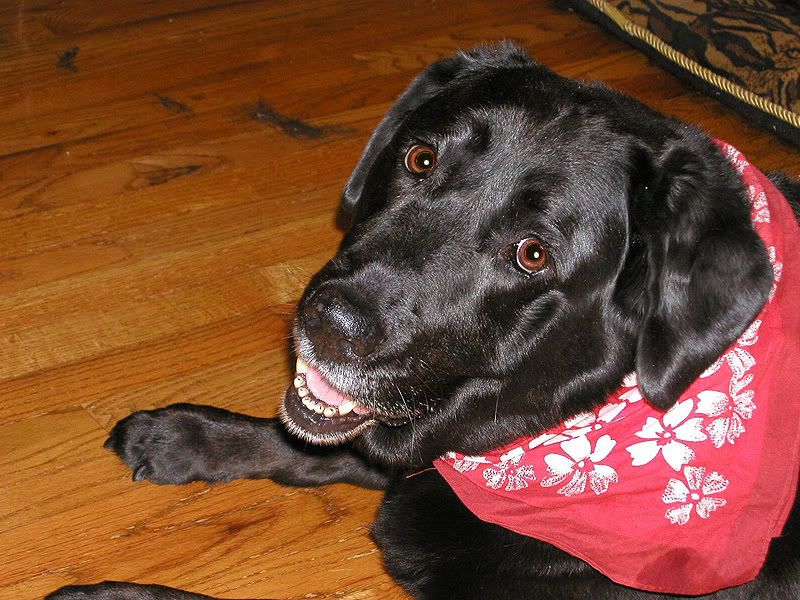 Her favorite mode of transportation along with her Buddy Bear:
Libby making the rounds in the neighborhood: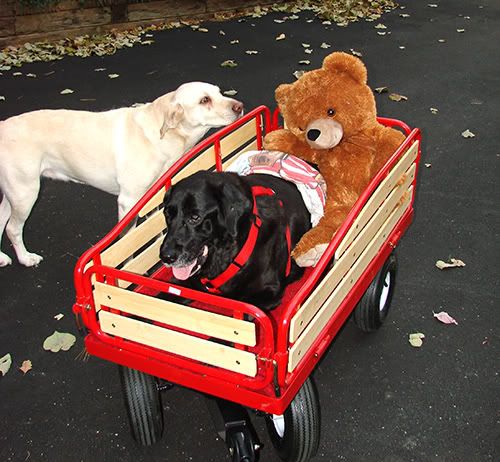 Laying on the deck, soaking up the fresh air and smells:
Our Sweet Girl to the very end. Finally Free on July 12, 2008: