Wild Yeast Sourdough with something extra...
trailrunnerbiker
March 13, 2014
I have been baking with wild yeast sourdough for about 4 years . I started a culture from flour and water and never looked back. What a joy to bake without yeast and to explore the world of sourdough baking.I have baked bread since the mid-70's and had always used commercial yeast.
I keep my starter in the fridge between uses. I feed it whatever I am in the mood to feed it ;) This bake was with whole spelt and apple yeast water. I sometimes feed it kamut, or rye, and use whey for the liquid. I have fed it semolina and white AP flour as well. I sometimes divide the starter and feed 1/2 with one thing and the other 1/2 with something else and use both in the same batch of bread. You can see that there is an infinite variety that only your imagination can limit. I get many ideas from The Fresh Loaf and bread baking forum. My recipe for the original starter came from there as well as the apple yeast water.
One can make fruit yeast water from almost anything. Again only your imagination limits you. It is easiest to start with apple and explore from there. If anyone is interested I can explain how to do it. It is very easy and only takes four days.
Here are some pics of today's bake. This dough weighed 1800 grams and I made 2 boules. It contains 350 g levain made as I said with spelt and apple yeast water. The dough is made with semolina , kamut, sprouted rye and chestnut flours and King Arthur AP flour. The liquid for the dough is just filtered water. I always use 2% salt based on the weight of the flour...this is the standard in the majority of formulas. Salt helps to control fermentation speed and gluten development. My breads are all mixed briefly in a Kitchen Aid and then I use the stretch and fold method during the fermentation period. I also retard all of my breads in the fridge for at least 12 hrs. I bake in preheated 500 degree dutch ovens covered then uncovered. We like a fairly bold bake to insure complete caramelization of the crust.
Note the glisten to the crumb and the variety of hole sizes also note the thickness of the crust and how uniform it is for the whole slice. All of these depict the development of the dough and the fermentation and baking conditions.
Hope you enjoy and let me know if you would like more information. c
just out of fridge :
turned out of banneton :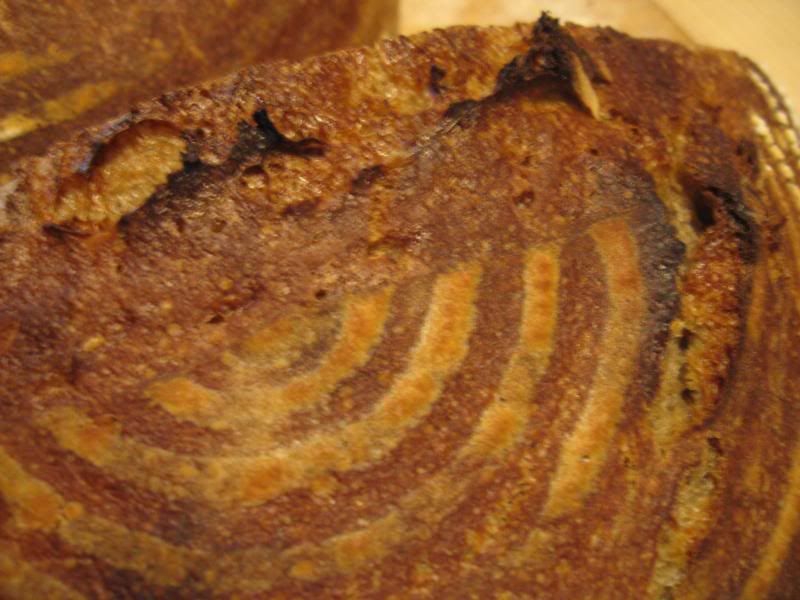 perfect crumb :