Lauzon wood flooring - Very happy! - Pics
DH and I did a DIY install of Lauzon engineered flooring last month. We live in So. Calif. and our house is on a concrete slab. Last Summer, we had our kitchen remodeled. DH did the subway tile back splash and also the porcelain tile floor. The old kitchen had sheet vinyl flooring that came out into about 1/4 of the FR. The remainder of the downstairs was carpet except for the front entry which was ceramic tile.
Many days and hours were spent getting the slab smooth & ready prior to the wood install. After a lot of research we decided to order Lauzon's Next Step Engineered wood: Red Oak Natural, Select & Better, 3-1/4" width and Square Edge (No bevels). Lauzon requires their square edge product be glued down and not floated. A floating install would have been a lot easier, but we had no choice.
Before installing, we painted the walls. We're not finished painting, yet. Still need to do the LR and upstairs. The install took many days and was extremely challenging for us. I have a GREAT deal of appreciation & respect for all professional floor installers!! The new base boards were a nice finishing touch, especially since our old ones were about 2-1/2".
We purchased enough wood to do the LR, but will take a little break..maybe Jan.? Now, I need to figure out which kind of dry dust mop/dry swiffer/dry micro fiber mop to get. Also, I want to look into getting a vacuum that won't scratch wood floors. All of the hours, late night walks to our community jacuzzi, Aleve & Tylenol, were worth it.
I love the feel of the new floor on my bare feet : ) Thanks to all Garden Web members for advise & support!
BEFORE
AFTER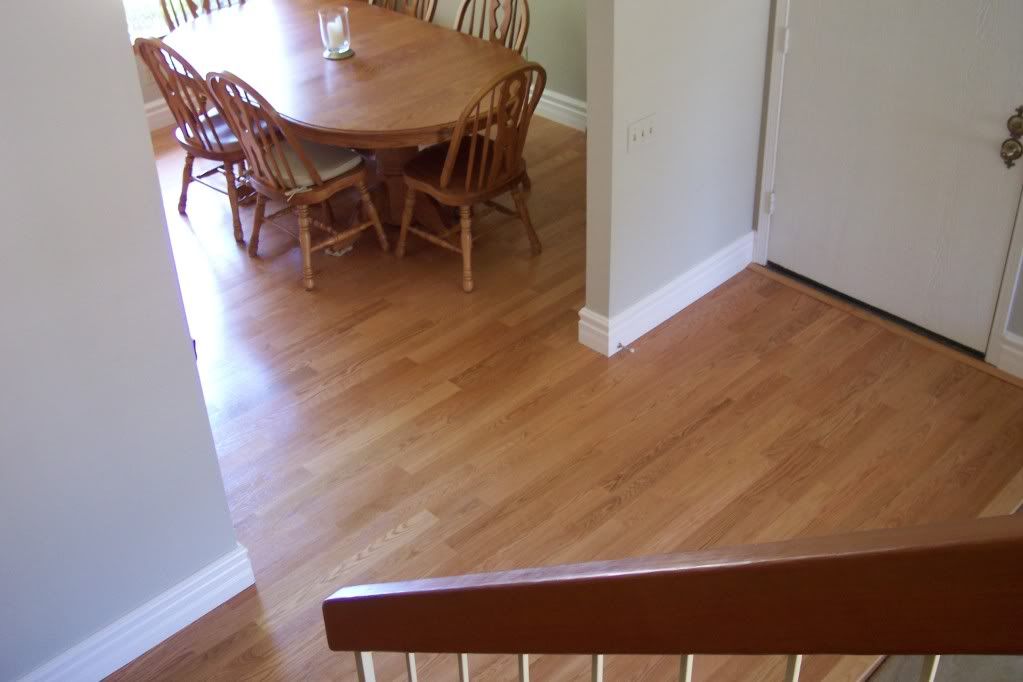 BEFORE
AFTER
BEFORE