Basement Home Theater
Hello Everyone,
I am in the process of building a new house and I've set aside a 15' X 20' room to be set up as a home theater in my basement. The two walls ("L" shape) are made of 4" Clay Brick backed by 5" reinforced concrete, one wall (intended projection wall) is 4" clay brick and the fourth wall is 9" clay brick. All 4 walls are to be covered with portland cement plaster (approx. 1" thick). The ceiling and floor are 5" thick reinforced concrete.
The entrance door is 3' wide and in a corner on the projection wall. It only takes about 1.5' from the 15' as the rest of the door is in a slight recess in the wall.
I've been searching the web and all I've done is gotten myself confused.
Unfortunately, here in Pakistan there is not a whole lot of technical expertise available at hand so I will have to do a lot of hand holding and supervise the contractors myself.
I have questions about everything:
1. How big should the screen be? (I intend on using a projector)
2. How many rows of seating can I easily accommodate?
3. How high should each successive row be?
4. How wide should each row of seating be?
5. How do I treat the walls?
6. How do I treat the roof and floors?
7. How much space should I leave behind the last row of seating?
I'm ready to pull my hair out just writing this post... Heeeeeellllllppppp Pleeeeaaseeee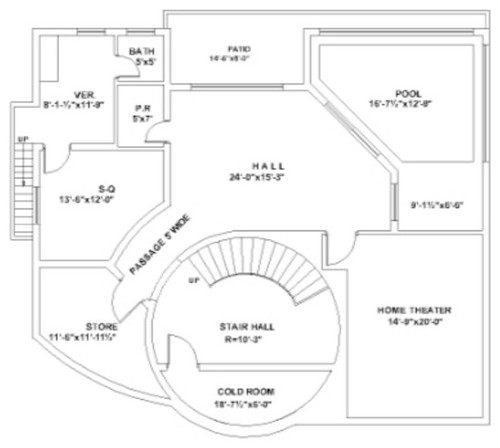 This post was edited by Shumail on Thu, Dec 6, 12 at 4:56