Video wiring help (long with diagram)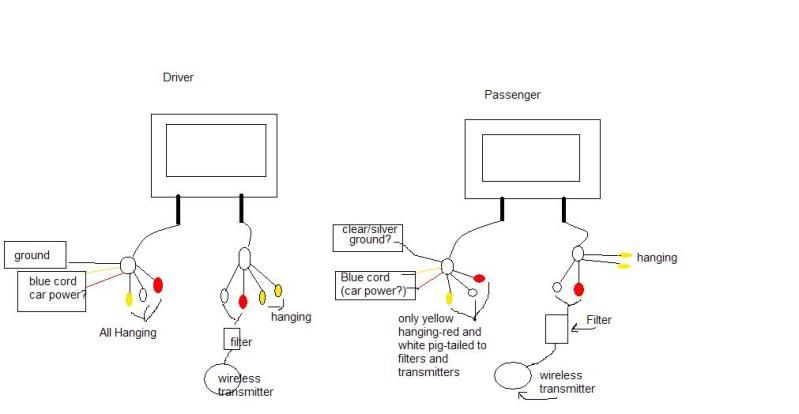 I really hope someone can help me. I'm trying to fix my headrest DVD players. They are supposed to work independently AND as a Master/Slave. I'm assuming the drivers side is master. ??
Each unit has 2 post wires. The right has 2 yellow cords (rca?), a white cord and a red cord. The left, as I read somewhere on the internet, is the power post. It has a single of each..yellow, white and red.. along with solid colored wires.. one each of black, yellow and red.
I cannot figure out a few things.
1-How in the heck to do you know which yellow is 'out' and which is 'in' when they're not labeled? Is the one on the outside of the cord 'out' and the inner one 'in'?
2-How in the heck should this be wired so the master/slave thing works?
All of the audio stuff comes together after the wireless transmitters and goes into the power stuff.
On the driver side, the left post cord has all 3 rca (red, white and yellow) hanging down. On the passenger, only the yellow hangs, the red and white tie into the whole audio configuration.
HELP!!!