Building a built in entertainment around fireplace?
I've really been wanting to create a built in somewhere in the house....Just reading all the blogs makes me want to tackle this challenge. Ofcourse I can convince hubby to get it done by a pro, but any $$ we save always goes back into a different project for myself. And always love the satisfaction of knowing I did it, and the guests seem to love it as well. I know I might not get many responses here, but would also love suggestions on other boards I can post which will be able to give advice as well.
Here is the room. I have 2 measurements, one is from the wall to the fireplace and the second one if from the edge of the mantel to the wall.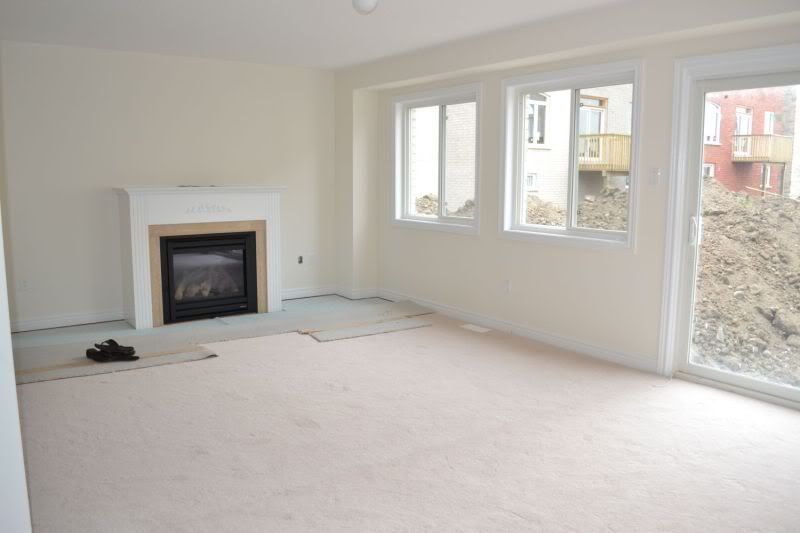 Since I dont want to remove anything from the mantel Im thinking of adding the bookshelves just touching the straight line below. You can see the yellow curved lines showing the mantel edge/design....That will leave a gap in between. Would that look bad?
__________________________________________________ ________________________
The cabinets are from HD's $99 special: http://www.homedepot.ca/webapp/wcs/s...partial&s=true
Lower Cabinet:::
Left: 47.5âÂÂ
--30 ü Base cabinet
-- 15 1/8 Pantry cabinet
= 1â dead space on each side
Right: 34.5
--30 ü Base Cabinet
= 2.25â dead space on each side
Bookcase::: Since billybookcases are too wide, usuing HD's bookcase. http://www.homedepot.ca/product/3-shelf-bookcase/804662
How can the depth difference between the bookcase and pantry be addressed?
Left: 45âÂÂ
15 1/8 + 27.75
= 42.875
= 1.06â dead space on each side
Right: 32.5âÂÂ
27.75
== 4.75â dead space on right side
__________________________________________________ ________________________________
Now height:
Pantry 84inch (7 foot). Everything else needs to add upto this number so we can add crown moulding.
Bookcase 48.25 + Base cabinet: 30.25= 78.5 inch
=5.5 inch under
What can be added under or over to make it match up with the pantry? I do plan on adding granite above the base cabinet, the it'll be a stable base for the bookcase to be on.
And lastly here's my poor drawing skills: