Advice!! To move the TV or not to move the TV?
Hello! I posted this question a couple of weeks ago and had some good advice, but I am about to give the official "no go" for the moving of the TV/Console and I just want one last vote before I do close the door...any thoughts?
Question...We have installed our tv centered on the wall as it begins from our door to the other wall-basically you look at the wall and it is centered there. BUT-the TV is not centered on the light fixture or the coffers above. My question is-should be do a costly move of the TV (@$1000) to center it on the light or just allow the to float below. If the TV is centered on the light and coffers it will mean that when you look up it will be aligned but on the wall slightly skewed. ALso, the furniture would have to move over closer to the front door and I worry it will look too cluttered as I was going to try to make a seperate sitting area at the end of the room in the new space added by sliding everything down. Regardless, I will be adding some art to the wall either in single large pieces or a cluster-If I move the TV I will have room for some sort of small hanging on the left of the TV and would need a larger pic or grouping to the right.
Which is more important? Being aligned with ceiling coffers/light or the wall?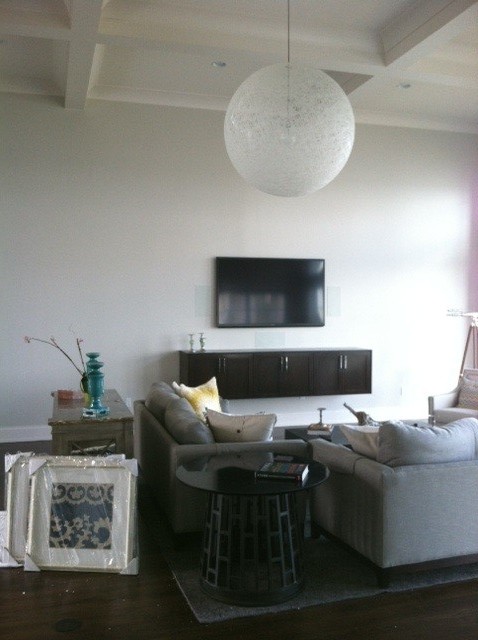 This post was edited by Alvan on Thu, Dec 13, 12 at 18:34