Legal Guardianship and Parental Guidance
After finding our ten yearÂs old grandson was apprehended with his 4yr old half brother, we were shocked but not surprised. His mother is a "mess" and we will leave it at that. My son has not been in their lives since my grandson was very young. He too having problems and struggling to turn his life around. LetÂs say he does not have a pot to "P" in.
After living in our area until our grandson Ryan was seven, His mum, Ryan and half brother moved to Edmonton where her family lived as there had been a threat that the children were going to be taken away from her. We had kept Ryan in our life as much as possible before and after their move to Edmonton, Ab. He is such a sweet and loving child and we have had him flown out to us every summer for the last three years. This year it was for 3.5 weeks.
When apprehended the children were taken to their maternal aunt and uncle who could only keep them for no longer than a week and after a court hearing, they have now been placed in a foster home. It is very much established that Ryan's younger brother is a handful and has behavioural problems.
To cut a long story short my son-in-law who is a lawyer got us in touch with a family law lawyer in Edmonton who is believed to be very good. We have had many dealings with him over the past three weeks. The problem is that the policy of the authorities is that they do not like to separate siblings (understandably). Of course, we do not want our grandson in and out of foster homes when we can offer him a perfectly good home, with his own bedroom, which he only vacated in August. (He did not want to take any of his toys home as little brother has always wrecked them  so left them all here until next time).
To this end, we have applied for Guardianship and Parental guidance for Ryan. It has been a nasty business. The mother also is fighting not to separate the children. I have had a lot of guilt over this, but I still think it is in RyanÂs best interest to be with his Nana and Poppa and we know he loves us very much. The main court case is in Edmonton on 18th October. 1hr.30mins from Vancouver by plane we have our tickets. We have just purchased one way as we have no idea what will happen during the hearing. Our hope of course will be that we can bring Ryan back home with us. Very sad situation, all round.
Ryan's visit this summer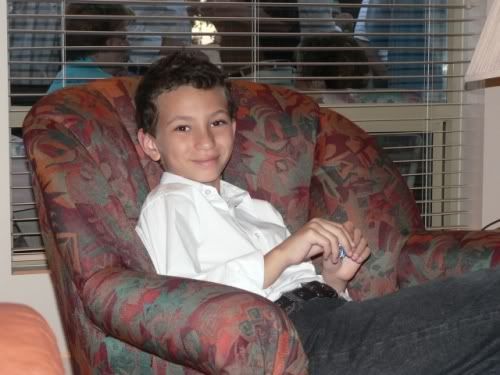 Myself and Ryan last summer
Pauline - Vancouver Island