What to do when cilantro flowers
publickman
February 19, 2014
The cilantro plants that we planted back in October are now making tall stems and are flowering, and so I have been cutting the tall stalks, trim and save the leaves at the bottom 4", and then put the stems in a plastic water glass that I keep in the kitchen near a window, although lately I have been putting it in the living room in the evening next to one of the orchids for some extra green. I think it makes a nice floral arrangement, and it is convenient to have the stalks at hand when I want to use them, and so I do not have to go outside (often in the dark) to harvest leaves when I want them. I used to let the plants go to seed so that I could harvest the seeds, but I already have two jars full of seeds and do not need any more coriander.
Anyway, I thought this is a nice way to keep cilantro close at hand when the plants are flowering, and it encourages growth of the lower leaves. I've already frozen large quantities of cilantro this winter, and I dried quite a bit also, to see how that will work. If it doesn't work, I have more in the freezer than I can use in a while anyway. If I try to grow cilantro in the summer, I have to keep it in a shady spot, and bromeliads and orchids have taken up the best shady spots already, and I really don't have time in the summer to take care of it - plus it takes a lot of water. It doesn't dry out as fast in the winter because I get a bit of coastal fog in the early morning, although less this year than most.
This isn't the best photo, but I took it this morning and was rushed for time. It's next to a meat slicer and in front of a food processor - not the prettiest spot, but it got light from the window.
Lars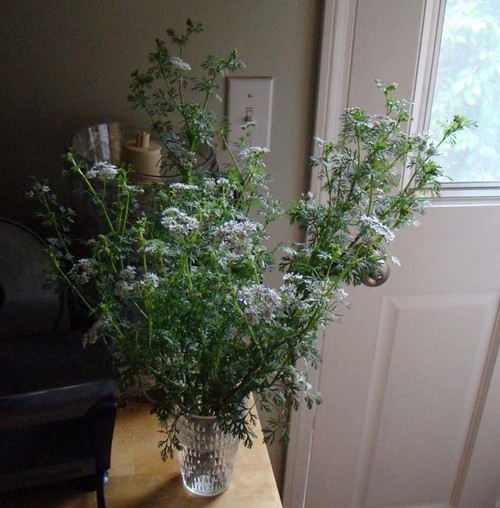 This post was edited by publickman on Fri, Feb 21, 14 at 1:18