Looking for info on old wood table
Hello. I'm looking for some info on a table we bought at a garage sale. The lady said she bought it at an antique shop in Philadelphia about 20 years ago. I don't even know what style to call this. We are using it as our kitchen table...someday maybe we'll be able to find some equally unique chairs to go with it. This is, hands down, THE best purchase we've ever made at a garage sale!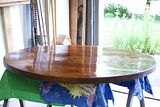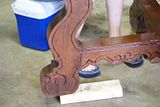 It's not as shiny as the picture makes it look....we cleaned it up and gave it a light coat of varnish because it was so dull and lifeless looking.
Thanks for any input.
Kristy :)