Question about Heat-n-Glo direct vent installation
dusterella
October 15, 2011
Hi! We are building out our basement, DIY style, and following all building codes etc, but we have a potential issue with the installation of the venting duct for our new Heat-n-Glo direct vent gas fireplace. It's the 350, small one, I think this one: 350TRS Slim Line
Anyway, the potential issue has to do with the duct set up. According to the manual (at least as far as I can tell), the max of the first horizontal duct when venting from the top of the firebox to the side of the house, should only be like 1 foot if there is a 90-degree angle right out of the top of the box. (if that makes sense) Here's a photo to show you what I'm referring to: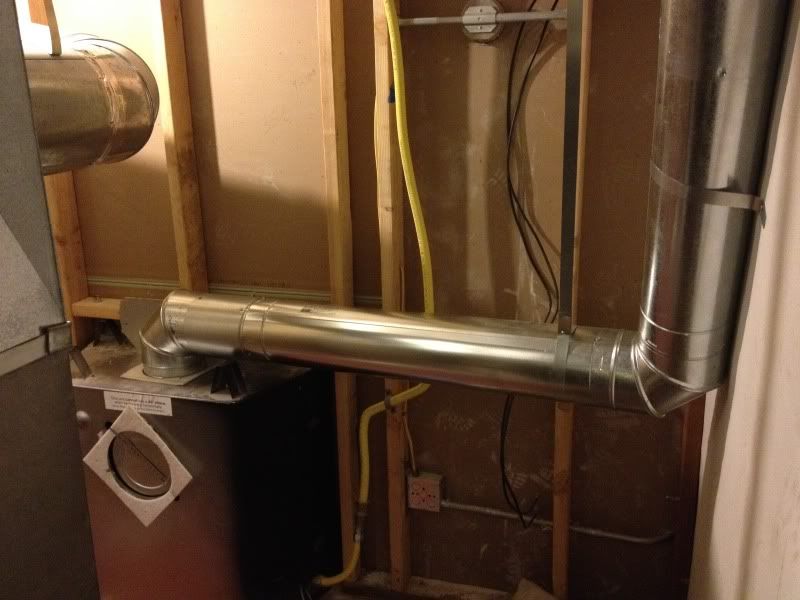 Anyway - what with the duct work for the furnace being right above the firebox, there was no way to make a substantial (or even much over 6") vertical run first, before heading horizontally toward the outside wall to vent. So, that first horizontal run after the right angle out of the firebox is more like 3 1/2 feet.
My main question is - what is the worst that can happen with this set up? Will it just not get as hot because the airflow through the duct may not be as efficient? Or will it actually be dangerous to use it in this configuration? Everything else is 100% by the books, including a really fancy vent termination on the outside of the house that will withstand high winds, etc.