fireplace remodel
Hello all I wanted to share our fireplace remodel and gas conversion with you. It is part of a family room remodel.
Before: Masonry wood-burning fireplace built 1973. Problem besides looking dated and unattractive it was inefficient, and also we would get smell in house from chimney year round.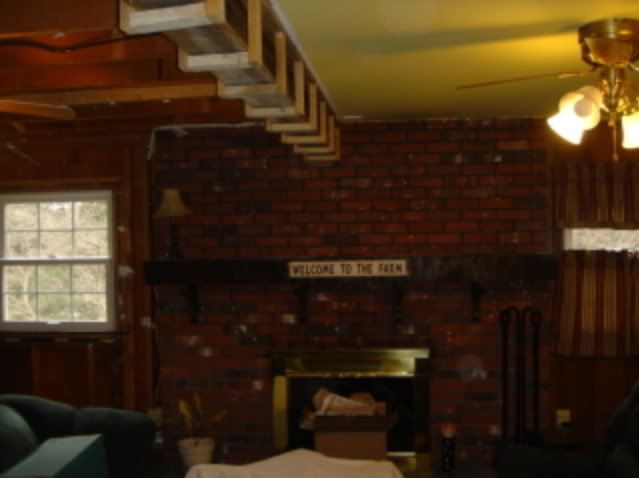 After:
Stone: After having to reinforce top 5 courses of original brick (replaced and installed brick-ties to reinforce) as it must have become weak over time and just wanted to be safe we used Dutch Quality stone face model weatherledge prestige (manufactured stone veneer) over lath and scratch-coat of mortar. Gorgeous 8.5' bluestone hearthstone.
Insert: Heat n Glo FB Grand natural gas. 27000-40000 BTU. Plumber used flexline to run gas to unit. Only thing we are waiting on is decorative front (graphite color) we ordered from store but they failed to order it! Insert is run off wall thermostat we installed in lieu of on/off switch on side which is nice upgrade and worth the $30. No electrical box needed.
Mantle: We couldnt find a mantle we liked without it costing $700 online (or local). This weekend we went to local lumber yard and we had a beam cut down to 6' and also another piece of wood to be used as shelf. They planed it down for us to clean it up, took it home and sanded it a bit.
Secured top to beam using 4" bolts. In order to float it on wall we cut four pieces of 1/2" rebar to 7". Mounted to brick wall using Sika Anchor 1 (fast setting masonry epoxy). Then drilled holes in back of mantle (beam) and prior to mounting to rebar used poly... construction epoxy in holes of mantle and back of it as well. Its crucial that structural integrity is there before you install something like this so your mileage may vary!
All in all really happy with everything. Dont mind hanging wire its for surround sound speaker install. We hired a mason to install stone (was time issue for us with everything else going on).