Meyer Lemon Mousse Cake
annie1992
January 29, 2013
As you might remember, Beachlily has very generously shared her Meyer lemons with me. The Monkey Princess has used her share making lemonade, but graciously allowed me to have one cup of the lemon juice for a new recipe, a Meyer Lemon Mousse Cake.
The recipe is long and involved, but not really difficult, although you need a double boiler, a springform pan and a cake pan, along with the usualy equipment. I dirtied lots of dishes, and this was the end result: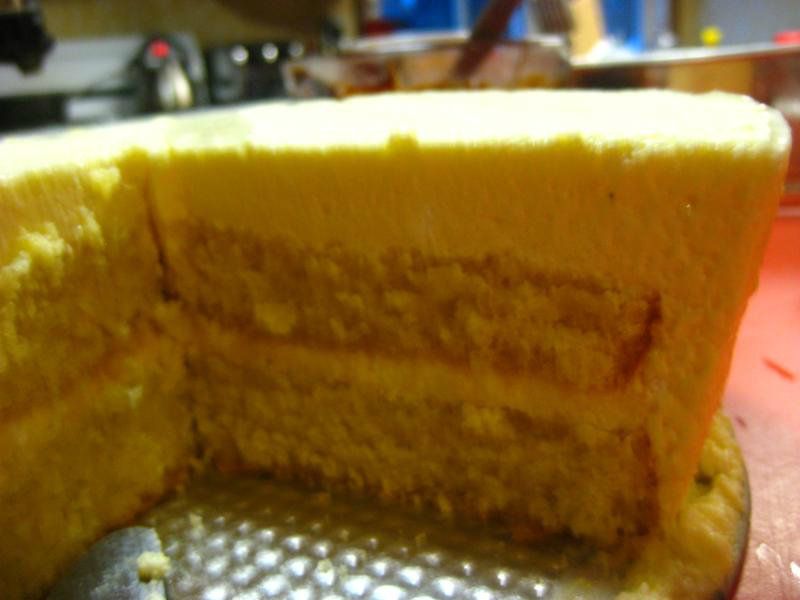 Yes, that's a bite taken out of that piece. So, arrest me, I just couldn't help myself, LOL.
The end result is delicious. The genoise was light and fluffy, the ginger syrup was just the right amount of spicy and the mousse was tangy and not too sweet. Fresh ginger, fresh Meyer lemons, real whipped cream. Somehow it tasted lighter than it actually was, LOL.
I'll include the link for the recipe, it's a blog called "Sweet Dreams". I think someone posted it here, so whoever that was, thank you. And an extra thank you to beachlily, who provided me with the fresh lemons to make this amazing dessert!
Annie
Here is a link that might be useful: Meyer Lemon Mousse Cake