Noodles!
sleevendog
January 10, 2014
We've been making our own pastas and dumplings and noodles the past few weeks.
Avoiding shopping and using sauces from the summer veggies that are frozen...and sausages
we made recently. A freezer full of seafood.
The last storm, was that tuesday night?, they are all a blur, but i could not sleep...high winds and a skylight
over my bed with branches falling and i live in a forest of large trees...spooky.
We lived within walking distance of a good Thai joint not long ago. I so miss the 'Spicy Noodle with Seafood'.
Wide rice noodles soaking up a rich sauce of soy and spice and nuts and herbs.
A google search it is called a 'drunken noodle'. Origin of the name is all over the place in description.
Kway Teow ~ Steamed Flat Rice Noodles
I just wanted to make them from scratch....
Not an easy recipe to find. I ended up using two ideas and methods.
The batter
1 cup brown rice
2 tbsp tapioca
2 tbsp white corn flour
1 tbsp oil
2 1/2 cups hot water
Soak ingredients in a covered bowl. First batch i soaked overnight. 2nd batch i used very hot
water and soaked for 2 hours. This requires a high powered blender. Blend until very smooth.
Thin batter like half-n-half. A fine soft grit is ok but i kept grinding. This should rest an hour while
prepping the steamer. I used a wok fitted with a section of my bamboo steamer and found a cake
pan that fit inside perfectly.
(linked recipe uses ground flours so no blender is needed)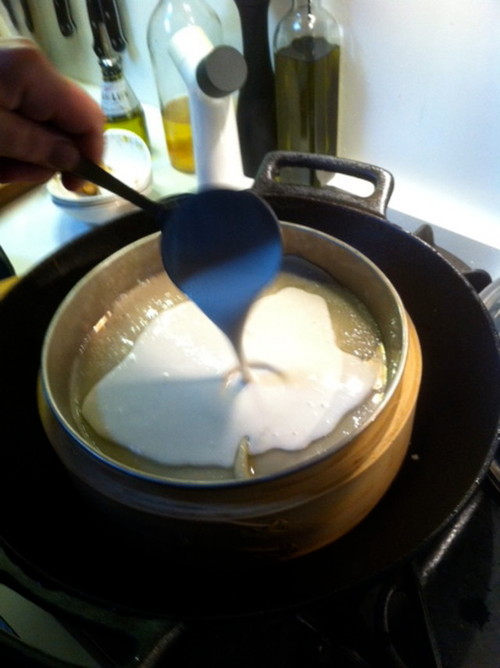 Here is a link that might be useful: homemade Kway Teow