What to do with odd items in pantry, freezer,etc.
publickman
January 13, 2014
Since Booberry suggested I start this thread, I will begin with the question: What odd ingredients do you have in storage that you do not now know how to use? Since I am at work, I cannot check to see, but I think I can remember a few:
Yuzu lemons (still on the tree, but I will freeze them soon - see photo)
Leftover orange sauce (from duck)
1-1/2 quart (not Gallon!) can of sesame oil (I use it for a few things, but how will I use the gallon I just bought?)
Dende oil (Brazilian palm oil)
I'll have to look for more when I get home.
I use sesame oil in a lot of Japanese dishes plus hummus, but that's about it. I use quite a bit in hummus, however, which is why I bought large quantity, and it was cheap.
I have some beans that I cannot identify - maybe I will photograph them - or else just cook them and eat them like any other bean. I have a lot of ingredients that do not have many uses, but they all seems to have at least one!
Lars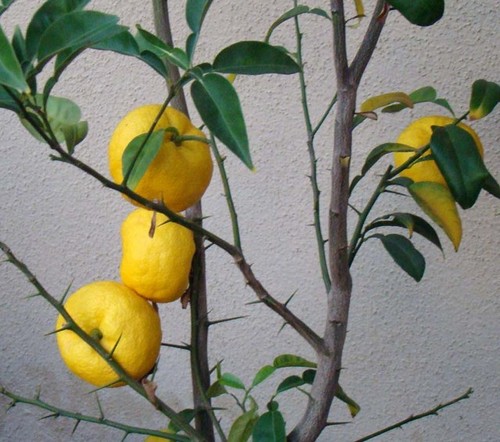 This post was edited by publickman on Tue, Jan 14, 14 at 18:22