Final Preliminary Plans for Review
jeff2013
December 30, 2013
Happy Hoildays!
I am back with a complete set of plans for review. Hopefully this would be our last round. I cannot wait to have the design finalized and move on to the next phase-price bidding and builder selection.
Any input on the plans is appreicated.
A. Floor plans.
We have spent a lot of time and efforts focusing on the floor plan, so I am quite comfortable with that part.
B. Structure integrity.
B1. Support beams. The house would be built with brick walls and metal roofs. There are at least 5 LVL beams to supprt the 2nd floor brick walls. Currently the floor truss is planned at a depth of 24".
B2. Front entry gable roof. There might be a water drainage problem where the gable meets the left side wall. There are discussions of adding a slighted pitch roof in that small area to re-route water away from the wall. We may also disconect the roof/wall section and instead add a gutter.
B3. Exterior walls along the three sides of the back U-shaped cut out. I assume that the bricks would be installed only when the walls are exposed out side the roofs over the great room/garage area. I am not sure if they can be done correctly without causing future roof leakages. Otherwise, we may consider use other types of walls (stucco or siding).
C. Elevations
Again, it took us a long time to get to this floor plan and roof plan so we are looking for ways to improve the elevation looks without changing too much on the rest of the design.
C1. Hip or gable. We tried 4 different combinations of doing gable / hipped roof on the two small sections over the entry and the study bump-out. The current configuration is chosen as the lower hipped roof ties better to the main structure. On the other hand, the bump out is only 2'3", it seems that we need the gable there to make a statement otherwise, it would look awkward. We also did a small wrapping around.
C2. Window lites. We tried windows with and without the divided lites. Still not sure which way to go. May try the 9-lite Prairie style window next.
C3. Front elevation make over. Wife thinks the front elevation is too boring. She said is just like a box as in typical KB home. This is still preliminary work. We probably would add some horizontal banding. The door needs to be redesigned. Maybe add a transorm. Consider change the brick base to stones. Thinking about adding stone, stucco or other wall materials.
Looking forward to your comments and suggestions. Thanks! JF
1. Floor Plans
Main floor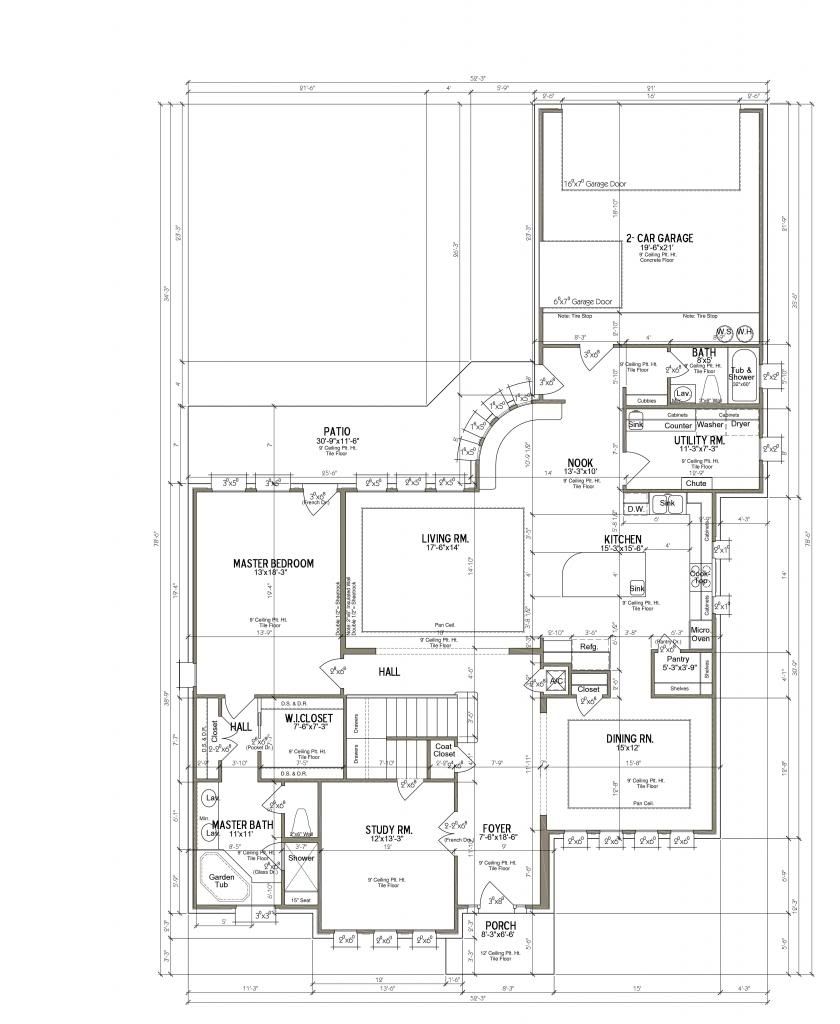 Second floor

Back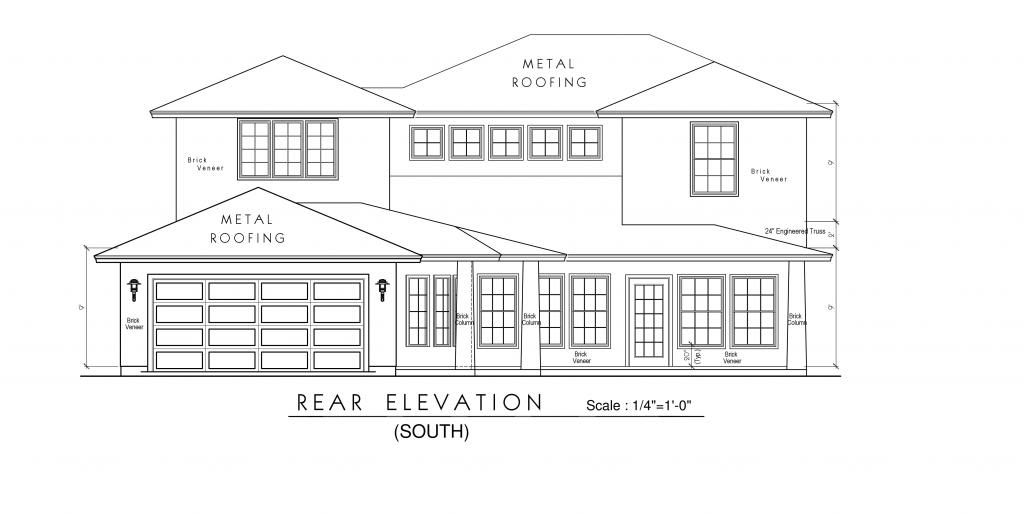 Right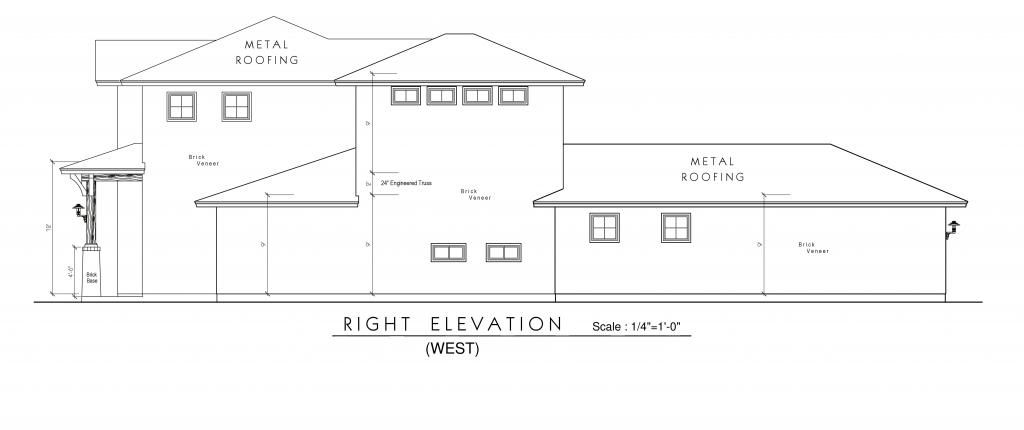 Left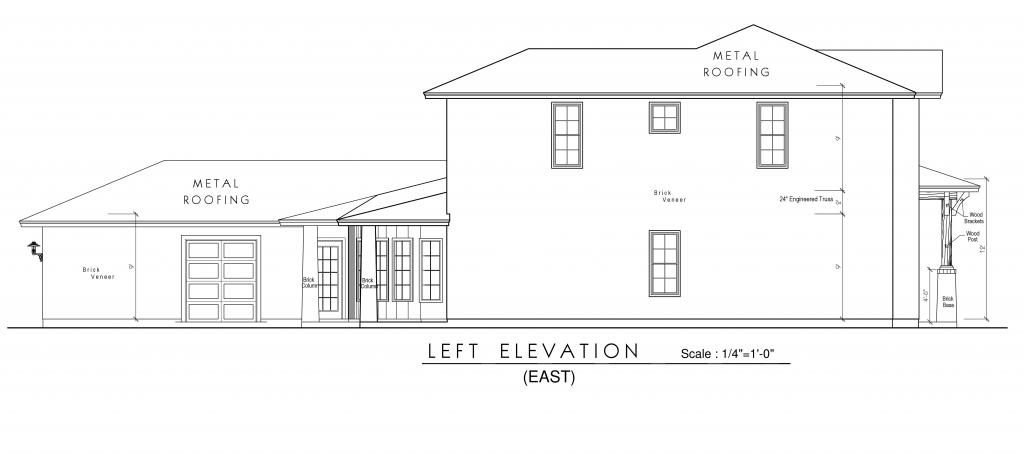 3. Roof Plan

4. Site Plan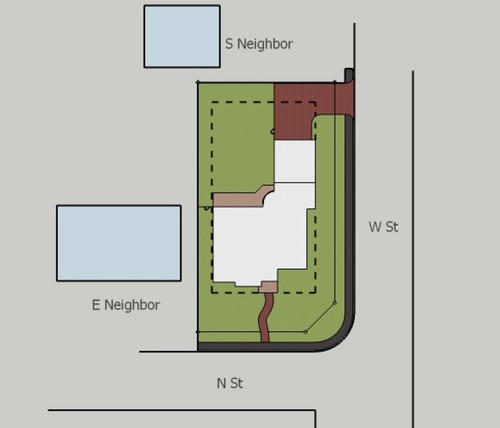 This post was edited by jeff2013 on Wed, Jan 1, 14 at 14:55