NXR 30 Range from Costco now up and running
black88mx6
December 14, 2013
Well my kitchen refresh has been moving along; just had my new floor put in and with that done I am able to finally hook up my NXR range.
I ended up with 2 of the 30 NXR ranges due to some issues with the first one shipped. Number one was purchased in Aug/13, and number two was Nov/13.
The issues with the first that prompted me to purchase a 2nd were issues as follows.
some touched up (painted) porcelain inside oven
A bit of what looked to be rust on some of the interior porcelain edges
A chip up under the front door in the porcelain
The main oven burner cover had porcelain chips on the side edges when taken out
One of the oven grates had a large notch taken out of it
Scratches on top of range in two places where it looks like a metal bur was buffed out
small dent in front kick plate
missing screw on front side trim
stripped screw on front side trim
Burner knob that would not seat properly
The second unit was an updated version. The toe kick plate is removed so the front of the range is now straight down to the floor. The new front pivots down to expose oven ignition parts. New stainless trim for the broiler, updated stainless side trim, updated and heavier stainless steel racks. Overall I feel the new one is a better design.
The 2nd unit was also not perfect, so far most of the issues seem to revolve around the oven door.
large chip in porcelain on bottom of oven door
black screw rattling around inside oven door
stripped screw and hinge part for oven door
scratch over door glass
The issue that took the most time was the female door range hinge part that was stripped. With only one screw holding it, there was no way it would take the oven door weight.
I was just going to at first swap the oven doors, but with the hinge part stripped, I went on to tackle swapping that first. Basically the front oven porcelain trim has to come out to get to the inner female door hinge part. Most of the front of the oven has to come off to remove this. Total time to open up both ranges and swap the part was about 2 hours. I can see that from here, any inner panel of the range can be removed and swapped if necessary; adding more time.
Hinge swapped, door swapped I am ready to go. Burn-off was a coupe of hours, once for oven and again for the broiler. I had already cleaned up a lot of the oils from mfg so the smell was not bad at all. My Kobe hood also did its job well.
One thing to note. I had to put the first ranges burners on the 2nd stove as they were closer to me (didn't have to run downstairs to get them). I tried the burners, and had very poor flame distribution, non-existent low flame and constant clicking.
As I was scratching my head at this, I decided to try the burners that the 2nd range came with. Presto, perfect flame and the clicking stopped after ignition. The color, look and stampings seem to be the same on both, but something is different. They do not seem to be interchangeable.
I have noticed that the oven temps seems to be off about 25 degrees. This could be that my standalone oven thermometer is bad but I am not sure. Any way to adjust the thermostat?
Even with the problems I had, I am satisfied with the range so far. It really is a nice range, and a true value for this product. I trust Costco will stand behind the product if I have problems. I already talked with Costco customer service prior to purchase of the 2nd range. I will be returning the first range back to them shortly as per their recommendation.
I would have preferred to have a perfect range delivered the first time without having to do the work I did. Is this the fault of Duocorp, Costco or the shipper? Sure, but let me add to this story a bit.
In the last year I have purchased several new appliances;
LG washer and dryer. Two of the washers were damaged (back side crushed on one, shipping bolts bent in other). Dryer had a small dent. (HHGregg)
Samsung french door refrigerator. First unit delivered had large puncture/crack on inside plastic shell. 2nd unit was delivered intact. (Lowes)
Samsung dishwasher. Went through five of these things shipped directly to the store. All were crushed or bent up in some way. All were directly related to shipping damage. It went so far as the store either wanted to move us to another model/mfg, never taking ownership of the shipping damage. It wasn't till we went to pick up directly from the warehouse that we picked up a good one. The sad part of this was that many of the damaged ones went right out on the floor to be sold at a discount. Two of these these units had the inside stainless steel seams crushed and it was obvious they would leak. Buyer beware. (HHGregg)
The only major item I had arrive intact the first time for my kitchen/laundry refresh was my Kobe hood. Thumbs up for them. (Venting Direct)
Overall I am pretty saddened by the shape of the appliance industry as a whole being able to deliver a solid product. I will now use my NXR range (remember the NXR range? this message is all about my new NXR range!) and see what I like and dislike about it with day to day usage. Will keep in touch and let everyone know how it does long term.
Picture below includes optional island trim and center grate.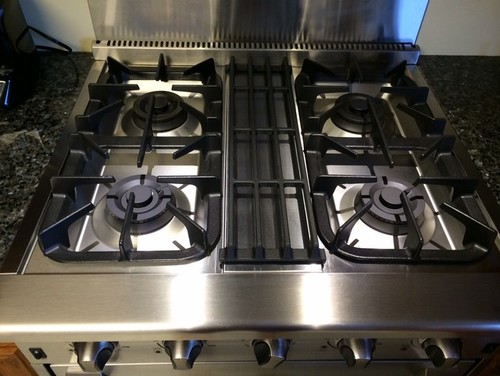 This post was edited by black88mx6 on Sat, Dec 14, 13 at 20:11