Dog coat from jacket: WIP
concretenprimroses
September 25, 2011
I went to an all town yard sale yesterday, and among other things I had my eye out for a cheap jacket to use to make my little dog a coat.
It isn't done yet, but I'll post more pics when it is. I didnt' think to take pics until I'd started cutting and it became clear that it was going to work, so I stuck the pieces back together to give you the idea. He is delicate with a skinny waist and a deep chest. I had already sized down a grey hound pattern I found instructions for on line.
So for 50 cents I got a women's extra large quilted jacket, kind of a blah brown. But the inside is a nice shiny copper color - same color as my dog's brindle markings so I'm going to use it inside out. He really seems to like the coat - he won't leave it alone.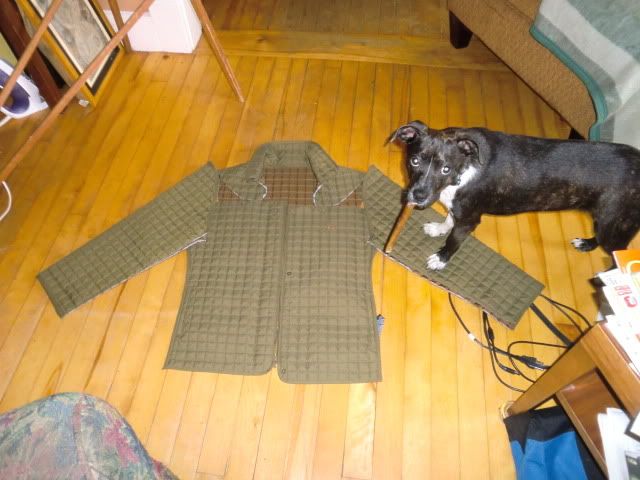 I decided to cut the arms off thinking they are the perfect shape for a simple coat (Picture the rounded part over the rump):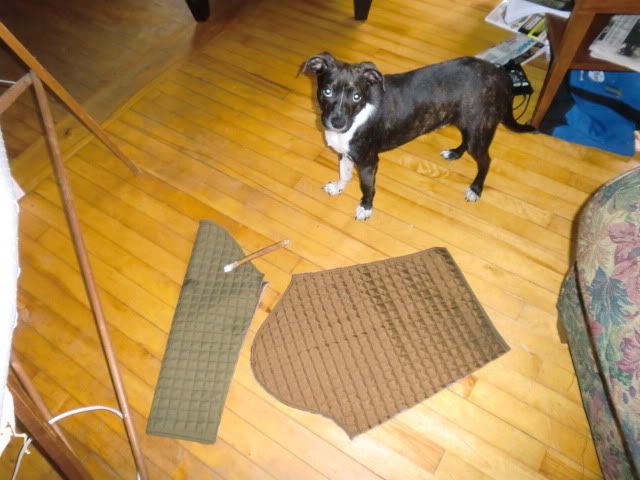 But I really want to make him some warmer coats with more coverage for the upcoming NH winter.
I next cut the sides out and realized that when I laid it out the shape was very similar to the typical dog coat pattern shape. Remember this looks funny cuz I already cut it and reconstructed so I could show my thinking process.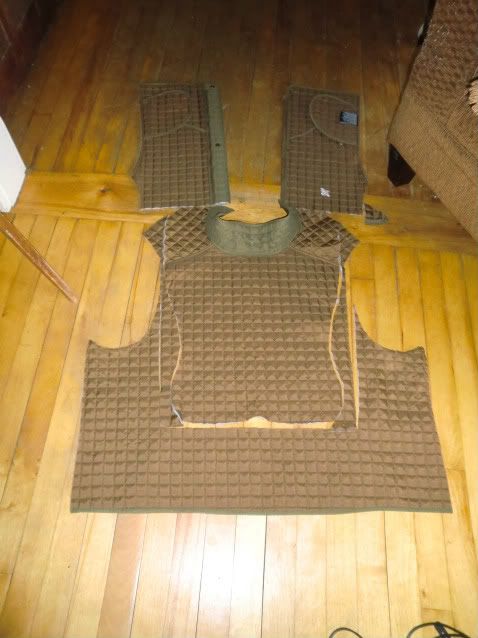 Here is the pattern that I'd already made, cut out of an old tablecloth, so I could make sure it would fit.
It hadn't really registered from my reading patterns how people incorporated the existing collars - but I saw that the neck for the dog pattern was basically the same shape as the jacket collar and I put it up to the collar and cut it out, keeping the collar.
I have cut the collar down so it won't wrap around his neck.
The parts that now will close under his chin had collar attached. It looks too long here and it may be a little, but it slipped when I stepped back to take the photo.
I'll post more pics when I finish, hopefully in the next couple of days. I need to make a breast plate that has ties that go up and velcro up over his back, and velcro for the front. Then a little dart in the back top cuz his rump curves down. Finally I've got to finish all the edges that need it with bias tape, which I'm hoping I have on hand.
Thanks for looking.
Kathy