Dishwasher Tabs--am I missing something?
First, I'd like to state that I'm not out to offend or make fun of anyone who likes to use dishwasher tabs. People like what they like, and that's fine. But I've been curious about this for some time, and a recent thread prompted me to just ask the question--are these things really that much better than the old powders or liquids that you dosed manually?
Over time, I've read a number of different posts about these things, including the recent one about a Miele dishwasher being dosed with too much soap. People went on to discuss snipping them in half to get the right doseage, doing a few dozen at a time to make it more convenient. Or having to crush them up, which sort of blew my mind there for a minute.
Do these tablets do a significantly better job than, say, like the Cascade I buy at Sam's Club in bulk? I dose that out with a tablespoon, using a little more or less depending on the soil level I'm dealing with. I get good results, no etching or etc. If the tabs are just a matter of convenience, I don't see it. These things seem to be expensive and fussy...or am I missing something?
I have included a pic of my high tech dosing system for those who might be interested.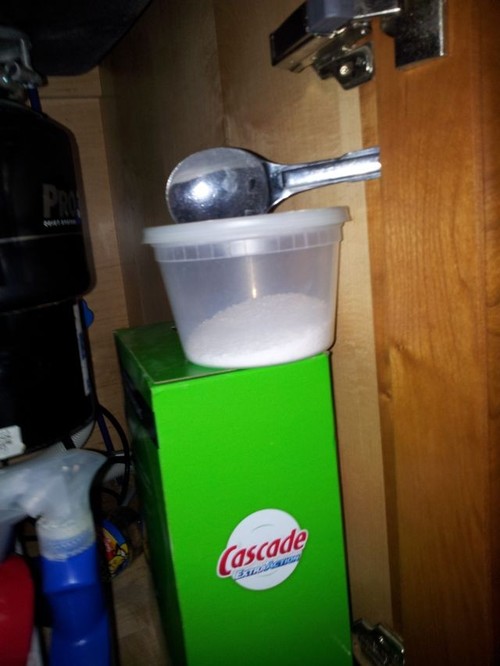 This post was edited by cj47 on Sun, Dec 2, 12 at 13:08