2-story floor and ductwork framing questions
I had posted questions and received a lot of comments mainly about floor plans, roofs, elevations. There were also some discussions regarding staircase and driveway. As I am about to meet with our architect to finalize the house design, additional issues coming to my mind include land grading (the lot is in a flood zone, issue to be addressed later) and floor framing.
1. 34" floor spacing excessive?
The current plan has 9ft ceiling height for both floors and 2ft 10in spacing between main ceiling and 2nd floor. The 2'10" seems excessive to me as the previous designer has 18" floor spacing. The architect explained that he would use 2x12 standard joists and need the additional 22" clearance to run ducts without cutting through the joists.
I am still not sure if this is the right way. That means we need to frame the 22" void dropped ceiling for the rest of the house (except the great room and the dinning where vaulted high ceiling is possible).
I don't know anything about framing. I just see that ducts take much smaller area than rest of the house. To me the common sense is not to do the 22" dropped ceiling (for nothing but a leveled ceiling height). Ideally, the duct shall be inside the floor spacing. If not, maybe the duct is partially inside the floor and partially sticking out (say 1ft soffit) to define the great room.
2. Duct inside unconditioned attic?
I had posted the question over the Heating & AC forum and everyone suggested ducting for 2nd floor inside conditioned space. When I raised the issue with the architect, he said he is doable but will cost more as AC in the attic is the standard practice and we are going to pay more whenever a non-standard method is used as the builder/subcontractor will spend more time/materials for it. He went further to say that it would take forever (say 30yrs) to recoup the extra upfront cost with the reduced utility bill.
My current house has the ducts in the attic. We are building in a hot climate and this looks really bad to me in terms of energy efficiency.
Maybe I missed something from the architect to justify the arrangement. I just don't know what is the right way and how to pursue it.
Any suggestions on these two issues? Thanks! JF
Edited with a picture showing floor plan and support beams (orange) and HVAC closets (red).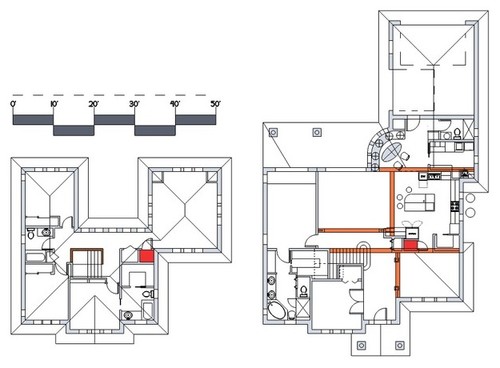 This post was edited by jeff2013 on Wed, Nov 6, 13 at 16:54