Tote bag makeover
concretenprimroses
March 17, 2010
Hi,
Here is a picture of a totebag that I changed the look of adding flowers, zipper, cellphone pocket, new handles and stenciled initials (mine).
I'm pleased with how it turned out, ready for me to take thrift store shopping on foot in Pasadena when I'm there in April.
You can look at my blog post for more details including a before picture.
Kathy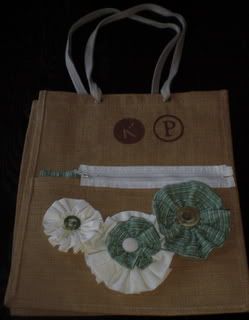 Here is a link that might be useful: Kathys blog post about totebag makeover