Radio City Rockettes in Nashville?
annie1992
December 9, 2007
OK, I'm finally back and I have pictures to prove it. (grin) Elery took me on a "mystery trip" for my Christmas present and I just got back Friday morning.
During one of our long and rambling conversations, I'd mentioned that I had always wanted to be a Rockette. All my friends wanted to be Miss America, but I wanted to be a Rockette. Of course, at 5'1" I never made the height requirement, LOL, and we'll overlook the fact that I can't dance. At any rate, my goal changed to just SEEING the Rockettes at some point.
After that conversation Elery promptly got on the internet, found where the Rockettes would be during his vacation schedule and bought tickets for the Grand Ole' Opry, Nashville, Tennessee.
We stayed right at Opryland, and it was beautiful. I was expecting "squined Porter Wagoner tacky" but it was upscale, tasteful, beautiful.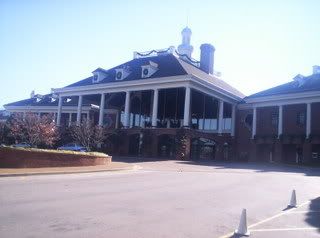 We admired the Christmas decorations as we walked to our room:
We were directed through the Cascade Atrium with the double waterfalls:
Our room looked out over the Atrium (and the sushi bar, LOL):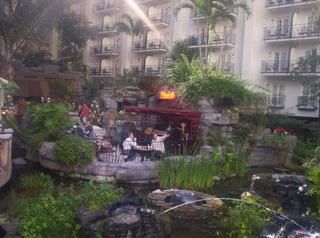 They also had an Irish Pub:
The Jack Daniels Grille: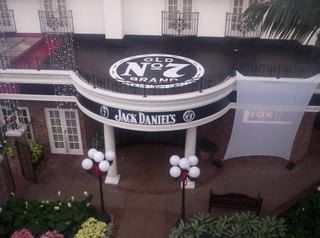 And an Italian place, a seafood restaurant, a couple of bars, all inside the hotel. It's 48 acres under one roof, the largest hotel without a casino in the world. They are adding another part, and then it will be the largest hotel in the world, even larger than the casinos.
Our first night there, we had dinner with Pam Tillis, she did a Christmas show. The dinner was so-so, Chicken Roulade with cranberries, sweet potatoes, squash, mashed potatoes, cheesecake. Your typical food service stuff, IMO, but the Christmas show was very good. I got an autographed copy of the Christmas CD and Ms. Tillis was kind enough to post with her elves for a picture:
We also checked out the Charity Christmas Tree auction, including this tree and all these guitars, signed by artists from Brooks & Dunn to those I don't even remember.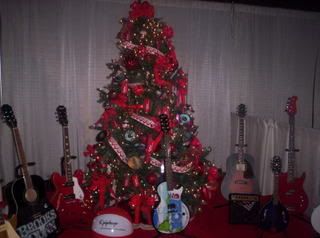 We saw the Roy Acuff gun collection, although I'm not quite sure why, LOL: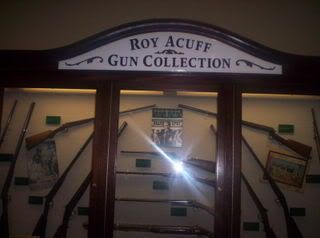 We weren't the only people visiting, the Major League Baseball Winter Meetings were held there, with negotations going on, ESPN doing live stream feeds, and agents/owners/managers/players/coaches everywhere. Along with their security reminding us not to take pictures, LOL, but I did get pictures of the signs.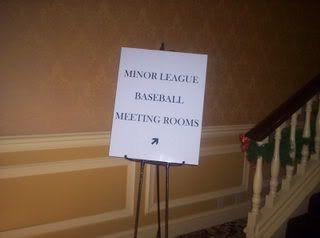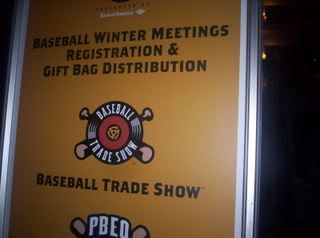 There was a lighted Nativity scene with wise men and angels: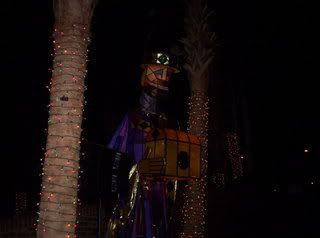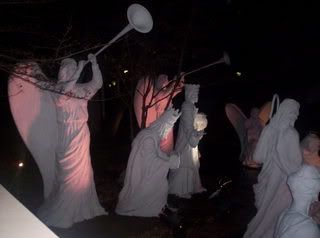 We went back to our room and sat on the balcony (one of those you saw with the lion/balloon floating around in front of in that prior picture). As it grew dark, the lights came on and this is what it looked like: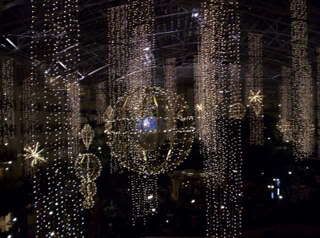 The next morning we went to the ice show, and did a little more travelling. Here's where we went:
The show included carvings of the entire Grinch story. The tour guide passed out blue parkas, telling us it was kept between 9 and 12 degrees to keep the ice sculptures from melting. There was even an ice slide for the kids to slide down. The ice carvers were brought from China the beginning of October and they work for 6 weeks until mid-November, carving the figures. Here I am with my hero, The Grinch:
Elery isn't a Grinch, so he stood by the Merry Christmas sign, LOL:
There was another Nativity, this one carved in ice:
After that, we went to the original Opry House and watched the Rockettes put on their 75th annual holiday show. It was awesome, I was so excited and so touched that Elery would actually go to these lengths to make sure I got to do something I always wanted. I even got a little sniffly.
That night we wandered around the hotel and watched them light up the outside, while the news crews were trying to interview passing baseball players. You might be able to just see the reporters in this picture:
They lit up this big blue tree surrounded by poinsettias made of red and green Christmas lights:
Wednesday morning, we started the 8 hour drive home. We got back to Elery's and unpacked, started some laundry, had a snack and sat in the hot tub while it snowed. It was a wonderful gift, great shows, a perfect time.
I'll even overlook the fact that my Jeep broke down about 100 miles from home, Elery came to rescue me and HIS truck broke down about 50 miles later. Both vehicles are at David's for repair, but it was still a perfect vacation.
Annie