Michigan Run Pictures from my viewfinder
annie1992
September 30, 2007
I've spent all weekend trying to get my DSL to work and of course, it doesn't, in spite of 2 calls to AT&T and 3 to Dell. Of course, two of those Dell calls got disconnected before I could speak to "My name is (unintelligible) but you can call me Shawn". Sigh. Anyway, I finally gave up and hooked up my old dial up so I could post these pictures.
Food first? OK, here's RobinKate's prizewinning nectarine jam, along with the cinnamon rolls for Saturday's breakfast just rising and Pat T's marmalade cream cheese bars.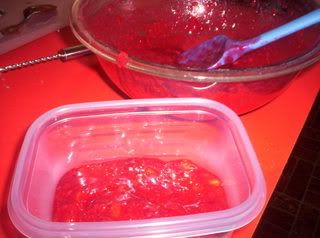 We also had bran muffins with Nancy's Apple Maple Jam, Craftyrn's peach ricotta muffins and Ann T's Scones, along with Ann T's cream cheese danish: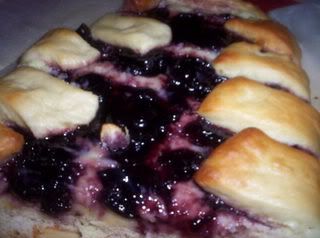 Marilyn's Lemon Cake roll shared dessert places with Sherry's brownies (on the cake plate Michelle brought me) and Carol's (readinglady) fresh fruit and berries in vanilla syrup with fingers of scottish shortbread: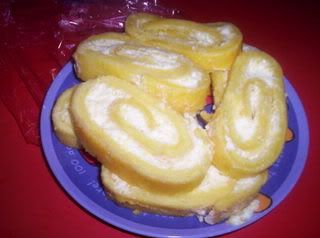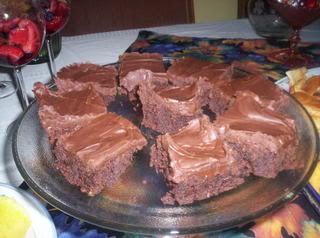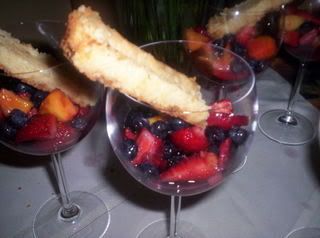 We had Lars' Algerian chicken served on San's mermaid platter (which everyone loves, both chicken and platter), Donna's hummus with homemade pita chips, Terri's honey wheat bread, Chase's dill pickles.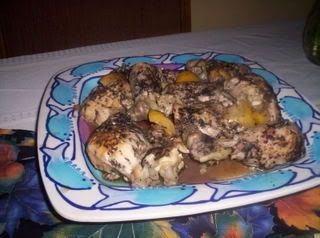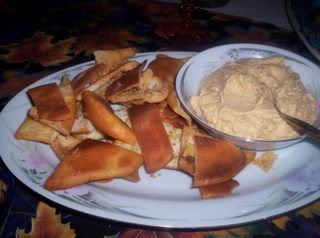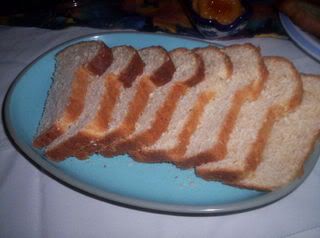 Drinking? Who said anything about drinking? Well, we did have just a little. Sherry brought some frozen margaritas, aren't they a pretty green color. Some is left in my freezer!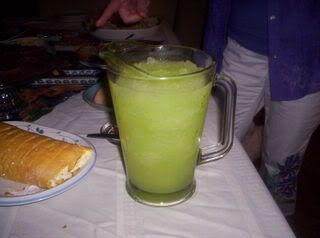 Linda made Sangria but we pretty much drank it before I could get a picture, LOL. Both pitchers!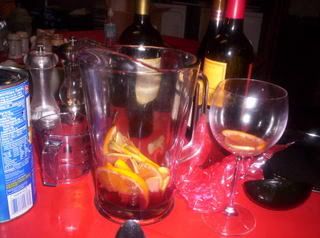 Oh and we had a bit of wine too. Some Michigan Traverse City Cherry, some red stuff called "Woop Woop", some hard cider, some other red stuff, LOL, and some white stuff. I'm such a wine expert. (grin)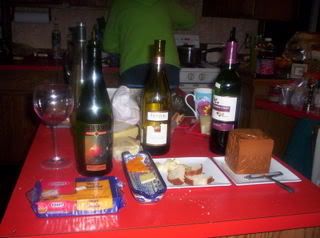 We used some items from other forum members. My tablecloth was courtesy of san and my tablerunner was from Karen (riverrat). I used san's platter, of course, and baked Sharon CB's salmon pie in a pie pan I got from David (lakeguy). We used napkins I got from Kathy (gardengrl):
San sent engagement gifts for Elery and I, a beautiful blue tablecloth and a wine decanter. Carol (readinglady) also sent an engagement gift, some heavy pewter measuring spoons with a hanger that says "Heart of the Home". Elery was pleasantly surprised to be included:
He shouldn't have been surprised, Sherry brought American Spoon Foods products for everyone, including Elery. Linda (doucanoe) brought him a very unique glass topped wine stopper, and she made me two gorgeous plates. Michelle made everyone handmade potholders:
San also sent a door prize, a champagne opener, which Linda won as the person who travelled the furthest. Linda says she'll use it. LOTS! (grin)
Linda also made a wonderful green beaded bracelet for Michelle and a leaded glass suncatcher for Sherry:
San also sent an anniversary gift to Sherry and Roger, a spiral candleholder and tall elegant candles, but Sherry's favorite was the Dove chocolates, which she says is "medicinal". (grin) Our San sure knows her stuff!
Sherry brought me a jacket that fits perfectly, a rusty brick color that Ashley says goes with my red hair. I've already worn that to work, and Jessica sent fig preserves for everyone. Well, everyone except Sherry, although Roger did get a jar. (grin)
Michelle brought a nice, heavy glass cake plate that I promptly used to serve Sherry's Brownies:
Is that all? Heck no! We ate, drank, ate some more. We had some cheese, including some dark brown, kind of sweet and caramel-y stuff that I can pronounce. Sherry's Norwegian foreign exchange student gave it to her and she served that and some manchego on plates from David (lakeguy)
We also had some Black Star Farms raclette from right here in Michigan, some local Amish yogurt cheese, some of the mimolette that San loves so well, and I forget what else, LOL, besides the wine. We had some of Elery's white chili and Linda's Minnesota wild rice with the cheese, bread and wine on Saturday night along with Alexa's Cheddar and Chipotle biscuits (picture to follow later in this thread)
Other than that, we sat around and talked, ate, drank, talked, drank, ate some more. We told jokes, talked about family histories and our houses, told jokes and learned to speak "minnesotan", doncha know.
Sunday morning Elery and I took Linda to the airport and everyone else left for home. I was sorry to see them go, everyone was funny, smart, great house guests. Believe it or not, later that night we were hungry and Elery and I had leftovers. We had some of Linda's wild rice soup, some leftover pita, a bit of the raclette, some of Alexa's cheddar chipotle biscuits and some stuffed grapeleaves that Elery had purchased at the Mediterranean market.
I was sorry to see those three days end.....
Annie