Wine and cheese, a ship, a ring, a proposal...
annie1992
September 11, 2007
I'm finally back from my "mystery weekend". Elery surprised me by taking me away for Labor Day weekend, we went to Traverse City to that winery we stopped at earlier this summer. The grapes were just getting ripe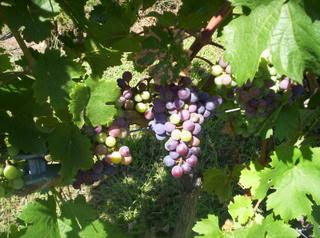 They were also making raclette, a cheese that's won a lot of international awards.
We bought a chunk to share at the Michigan Run next weekend, and watched them make it: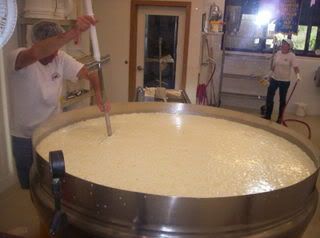 They age the cheese in a "cave" in the side of the hill:
We did the "expensive" wine tasting this time, 2 tastes for $5. I had the Ice Wine, at $92.50 a bottle I knew I'd never drink it otherwise, LOL, and it was actually pretty darned good. It's made from frozen grapes and they explained that they only get about 5-10% of the juice from the frozen grapes that they would get from fresh ones, that's why it's so expensive. I also had some maple infused wine which I really liked and Elery thought needed pancakes. (grin) He had apricot brandy and a pear infused brandy. I thought they were both nasty but there's no accounting for taste. LOL
We left the winery with a bottle of hard cider and one of the maple wine for the "wine tasting" on Saturday night during the Michigan Run, and went to our next destination. It was the "tall ship" Manitou, for a dinner cruise out on Grand Traverse Bay. Manitou is a 110 foot, 3 masted sailing clipper, restored and used for these cruises:
The crew put the sails up pretty quickly and we were on our way:
At that point I should have known something was up, because Elery had convinced the Captain to let me steer the ship. While I was at the wheel, in the middle of the Bay, he got down on one knee and proposed.
I was surprised and embarrassed, he did it in front of the crew and about 40 other passengers, one of whom just happened to be the daughter of my next door neighbor! He talked her into taking pictures. I told him I should have said "I hope you can return that ring". He said I should have said that, he could have gotten sympathy drinks for the rest of the cruise! At any rate, we got a picture of both of us, thanks to Heather: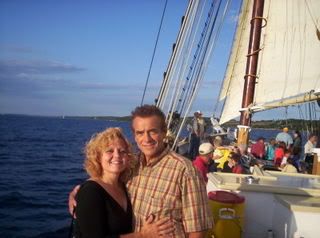 We had just enough time for dinner and the sunset on the Bay, which was as beautiful as always: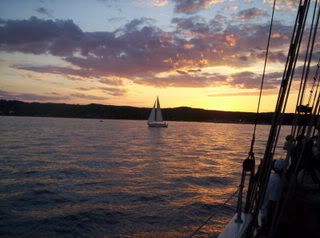 I tried to get a picture of the ring, but my camera won't take a picture that close. Elery will be here Wednesday and says he'll bring his camera, maybe that will be better.
Anyway, it's two separate rings, one white gold and one yellow gold that intertwine. The yellow gold has a big solitaire and the white gold band has 10 side diamonds, five on each side of the solitaire. Elery says that symbolizes his two hands, holding my heart safe. I didn't even laugh at him, but I did punish him by making him go camping with me, the girls and the grandkids!
So, my weekend was a surprise, certainly. He thinks we should get married "tomorrow". I told him at least a year. Neither of us can retire for at least 3 years and even if we were married right now nothing would change, we'd each be in our respective homes and jobs. It'll wait...
Annie