A trip gone awry or 'Elery saves vacation'
Yes, I know, everyone is waiting to see how my week with Elery in Tennessee went, LOL.
We did get a late start, we were supposed to leave first thing Sunday morning but on Saturday I took a headfirst fall out of the back of Dad's pickup and fell smack on my forehead, snapping my head back so far my neck cracked. Dad heard it crack and thought I'd broken my neck after years of trying. I wondered for a minute myself but ended up with just a stiff neck for a couple of days.
The real problem was Ashley. She got another spider bite and the doctors have decided that it's not just venomous spiders, she's extremely sensitive to spider bites of all types. She got bitten on Friday, and it caused some kind of temporary paralysis, she couldn't walk by Saturday.
To the emergency room we went, they transferred her by ambulance to Grand Rapids for an MRI, a CAT scan, a team of neurologists, some heavy duty IV steroids. The Pakistani doctor we had kept saying it was "thought provoking". Uh huh. She spent Saturday night there, they didn't release her until 2 p.m. Sunday afternoon. Of course, I rode with her in the ambulance, never thinking that I wouldn't have a way to get us home. Sigh. Elery worked 12 hours Saturday, got off Sunday morning at 7 a.m. and promptly drove 2 hours to pick us up. He drove us another hour home, carried Ashley in, got her supper,
calmed everyone down. He was so sweet he made Ashley cry. Ashley was upset that she'd compromised my "vacation", so we found people to stay
with her Monday, Tuesday and Wednesday. She wasn't released for work until Thursday.
First we stopped in Cincinnati to see his father. His Dad is 85 and a newlywed, Elery's Mom died a couple of years ago. His Dad loved me and told Elery to propose quickly, before I got away, I was a "real good catch". (snicker) If he only knew that I was really a redheaded Native American baptized-as-a-Mormon, heathen Methodist floozie!
From there we went on to Caryville, Tennessee, where we stayed with his sister and BIL. His Brother In Law promptly told him that he approved, saying he should take me up on the mountain and propose before I got away, because "she ain't no regular Yankee". I think that was a compliment, but Elery told him that I would throw him off the side of the mountain if he did such a thing. We went to the top of the mountain anyway, where the view was wonderful. From this spot you can see three states, we were standing in Tennessee and could see Kentucky and Virginia: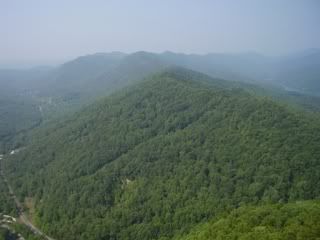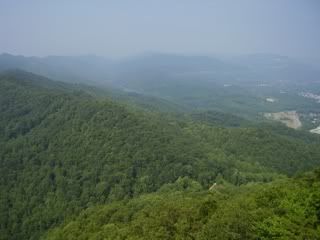 This view was from a place near Cumberland Gap called The Pinnacle. No proposal on the mountain top but it was beautiful:
Just to prove that I really was there: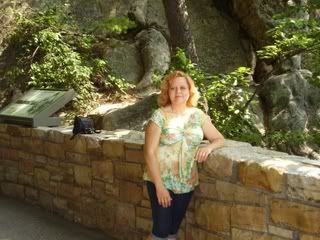 Neither of us really care for ice cream, but I couldn't resist the sign at the local ice cream stand:
Yes, that would be "Po Ho's", LOL.
The only "problem" is that he is an ungodly early riser, and I'm not a morning person. At all. He'd get up every day about 5:30, shower, get dressed,make coffee. We stayed with his sister, so I got my own room and my own
bathroom, no sleeping together (grin). About 6:30 he'd come in with a cup of coffee for me and gently ask if I were ready to get up and get going. It was about 100 freaking degrees every day, so things got done early in
the morning or in the evening, it was too hot mid-day.
I didn't get home until Saturday night and she worked at Applebee's on Sunday. Elery suggested a joke on Ashley, so I took a ring Elery's daughter had given him, put it on upside down so it looked like a plain gold band and went to Applebee's for lunch with Elery. I flashed that ring for a couple of minutes while she brought menus and
water, then she noticed. She thought I'd eloped, LOL, and was so rattled she screwed up the order of the people next to us. I finally had to confess, of course, but it was funny as heck. ROFL Like I'm the type to run off and marry some guy I've only known for 3 months.
Of course, Dad has had me working for hours "catching up", and I took some time to pick some sweet cherries. They're in season right now and $1 a pound for u-pick, so Elery and I made some sugar-free jam while he was here. The cherries were big and sweet and hanging in clusters on the trees. We picked 24 pounds in less than 40 minutes: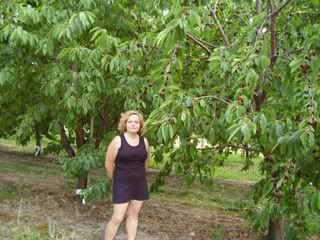 As an added bonus, when I got home I found one of the neighbors had put up a new sign, he's having trouble keeping his new bull confined, LOL. Somehow when I saw that sign, I knew I was home!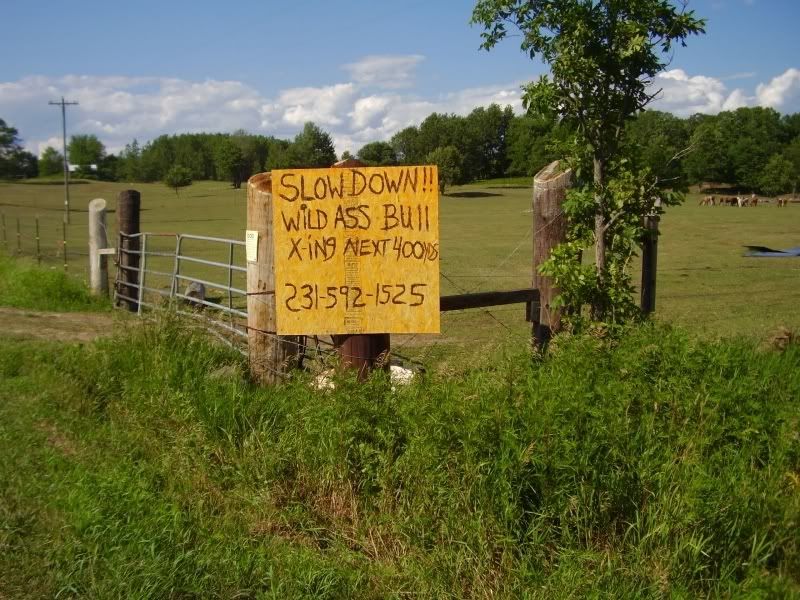 Elery was kind and patient, his only function seems to be to give me anything I want. His sister and BIL were gracious hosts, although they kept trying to feed me. We did have a discussion about the "right" way to make cornbread, LOL, I make mine with yellow cornmeal and sugar and call it "johnny cake". Susan makes hers with white cornmeal and no sugar and it's "cornbread". I like it both ways and so argument was avoided. LOL
I do have some more pictures that Elery is sending from his camera, I'll post as I get them. I had a great time, in spite of the inauspicious beginning and in spite of my worries his family seemed to like me. They never made me go shopping or visit any tourist "attractions", but they drove me all around so I could see the mountains, the lakes, the farm his BIL owns. Just my kind of "sightseeing", it was relaxing, didn't cost me anything and I got to see a new place. All in all a pretty perfect vacation!
annie