Dutch Oven question - I'm confused
tomatoes4ever
December 5, 2012
Lately I've been drooling over Le Creuset enameled cast iron and dutch ovens in general. I really want to use them to make braised meats and soups (like brisket or maybe braised short ribs, etc.).
Anyway, I saw a few good deals and was about to buy one, and then I remembered that at the back of my closet I have a Mario Batali 4 qt enameled cast iron risotto/saucier pot. It' seems pretty deep. It is oven safe to 500 degrees. It looks an awful lot like a dutch oven except for having one long handle and no second handle. So what's the difference? See links and photo to see what I have.
Do I need to buy a dutch oven? Or can I use this as if it's a dutch oven? If the concept works for me I'll probably buy a 6 qt dutch oven eventually, but I want to see how much I use it before I invest $$$ in Le Creuset.
Thanks!
http://www.chefsresource.com/mario-batali-4-quart-saucier-pan-orange.html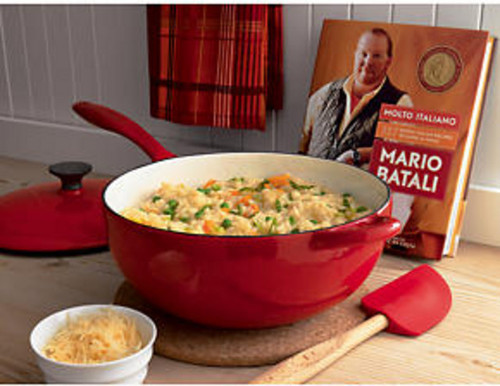 Here is a link that might be useful: Amazon - Mario Batali 4 Quart Risotto/Saucier