Revised Roof Plan and Elevations
It has been about 3 months since I received the intial set of of floor plan and elevations from the architect. I have received a great deal of comments here. Thanks to everyone!
While there are a lot of critisisms of the original design (disjointed/chopped composition, overcomplicated roofs, ill-proportioned depth/width, plain left elevation, etc.), unfortunately we failed to identify a totally different yet better solution and I do appreciate some practical aspects of the current design. Therefore my strategy has been focusing on the goals to
A. Make the fixes (mainly on the floor plan)
B. Simplify the roof plan (on the top to make it more unified and over the dining to have it separate from the entry porch)
C. Improve the front elevation (to highlight the front entry in particular).
We also made an important decision to use metal roofs (thanks to feedbacs from Chris and Holly) and brick walls instead of tile roofs and Stucco.
I have also been doing some sketchup drawings myself to try out different ideas based on feedbacks that I received here, my discussions with the architect, and my own limited understanding.
Finally I have received some updates.
Attached are some pictures showing
1. Revised front elevation and 3D view from architect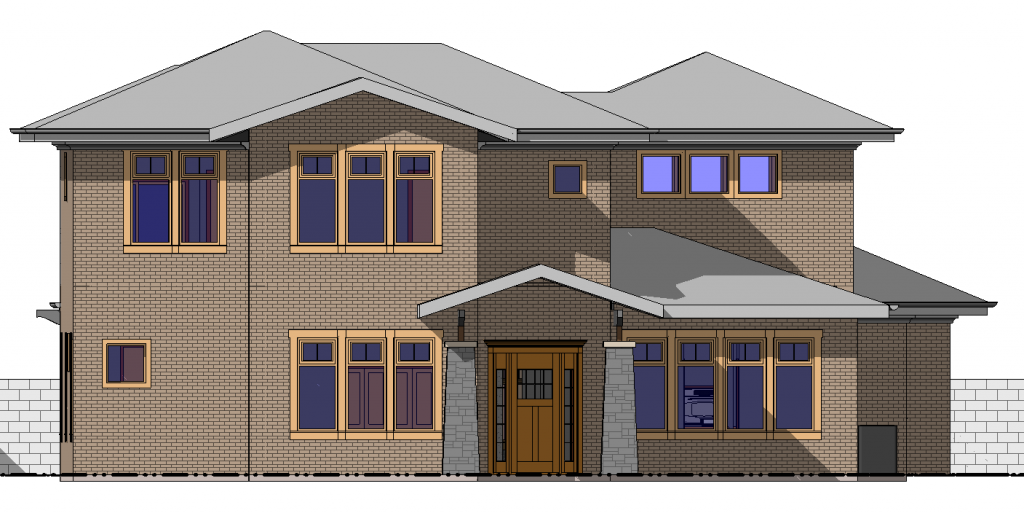 2. My SU drawings of floor plan w/ rooflines, front elevation, and 3D view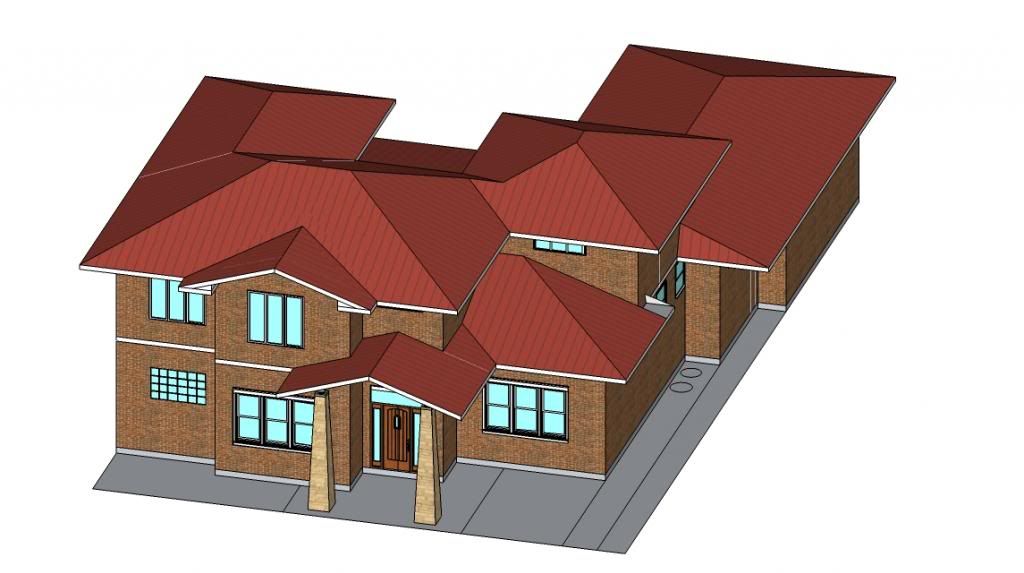 3. FYI-Original floorplan, front elevation, and 3D view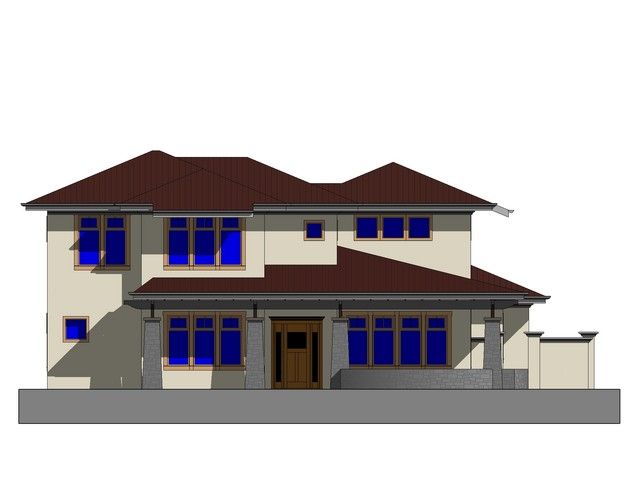 4. Hipped version (front & back 3D views, 4 elevations, all pitches at 5/12 excepted back at 3/12) and the inspiration house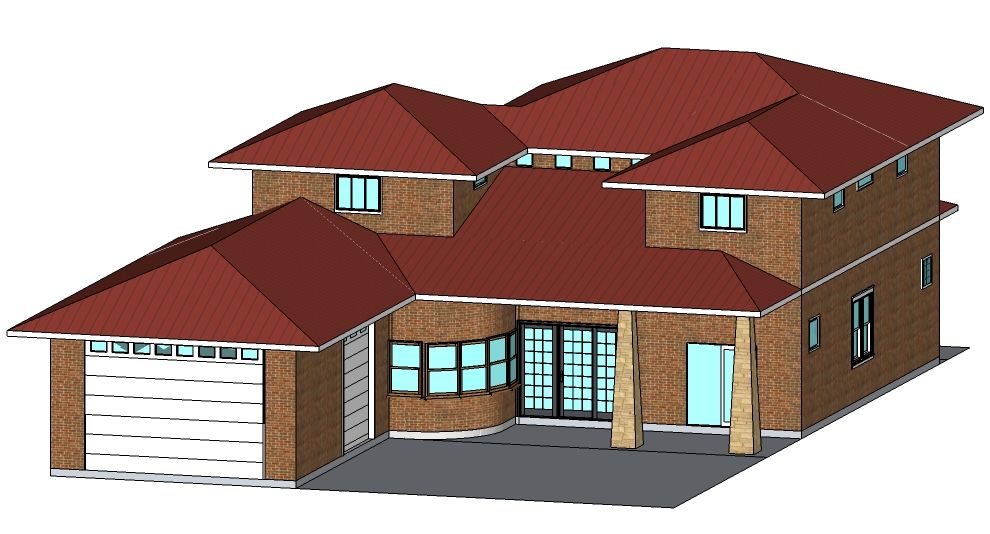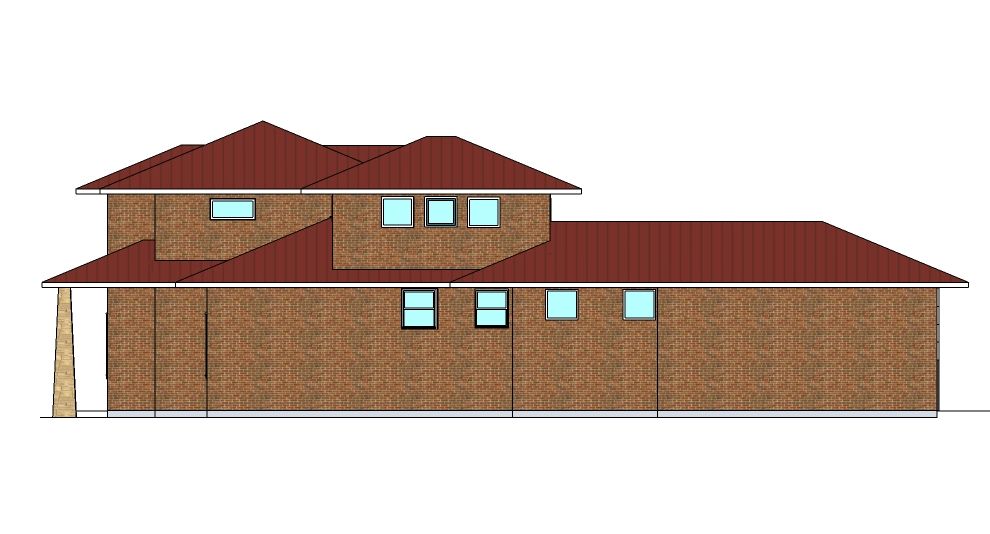 I am OK with the general layout and design and understand that a lot of details about window/door placement and horizontal banding toward a contempaory Prairie inspired style. However, I am still concerned about the following issues in needing your help
A. Two front gables appropriate?
B. Shall I really need to push the architect to simplify the top roof as suggested in my drawing or they make no difference?
C. How about roof pitches? Right now, the back is at 3/12, top 5/12, two gables and dining 4/12. The eaves are 2.5ft in the architect's design and 3ft in my drawings
And any addtional comments please?
Thans! JF
Updated with the hipped version of both entry and bumped out sections and the inspiration house. 10/14
This post was edited by jeff2013 on Mon, Oct 14, 13 at 20:01