dishwasher can't clean a spoon ?
snowglobe
November 18, 2013
I recently bought a Bosch Ascenta dishwasher. I have owned it just a few months. It washes about 80% of the stuff. The remaining 20% I have to re-wash. It couldn't clean a simple wooden spoon? Please see photo.
I had a Bosch dishwasher about 10 yrs ago and don't remember having unclean dishes or utensils and it was very quiet--that's why I bought another one. I also know how to load a dishwasher.
--I don't over-crowd it.
--I lightly rinse everything prior.
--I use the correct amt of soap (cascade powder) for our softened water.
--I have the rinse aid in it.
--I make sure the water is good and hot prior to starting it
--I tried both the "auto" cycle and "normal cycle" and "sanitize" option. It washes for quite a while (although quietly).
Is there something I am not thinking of? Do i need to scrub everything completely clean before putting it in the machine? Could its claim to fame be the quietness, so not enough water force is used? I guess I rather have a dishwasher as loud as a screaming jet engine if it cleaned ALL the dishes.
Am I being unreasonable? H E L P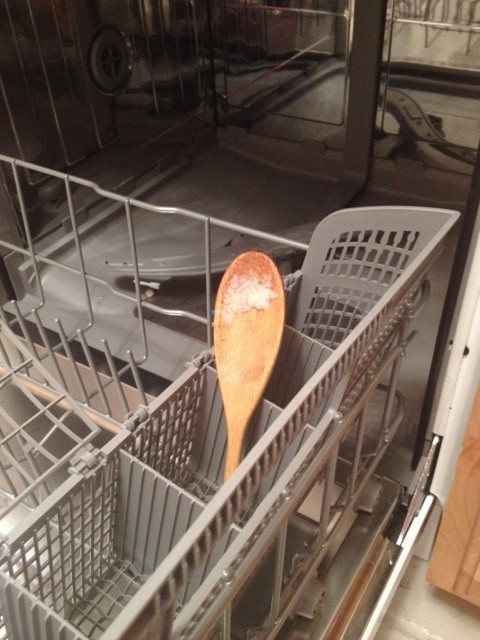 This post was edited by snowglobe on Mon, Nov 18, 13 at 17:21